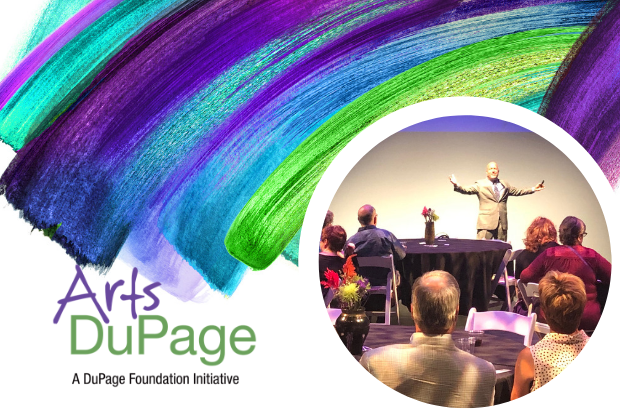 As arts advocates for our community, Arts DuPage and the DuPage Foundation were thrilled to kick off Arts DuPage Month with an engaging visit from national arts leader Randy Cohen on September 10. Vice president of research and policy at Americans for the Arts, the nation's leading arts advocacy organization, Cohen is a noted expert in the fields of arts funding, research, and community development.
Hosted by Arts DuPage and sponsored by Foundation friends Les and Mary Wiberg along with support from the JCS Fund of the DuPage Foundation, Cohen spoke to multiple audiences throughout the day including county leaders, donors, artists, and programming professionals, to put arts, culture, and entertainment into the spotlight. All discussions revolved around the arts as a fundamental part of strong, healthy communities with local arts agencies, like Arts DuPage, acting as an impactful conduit.
"There is such a large arts presence in DuPage County, so many diverse cultural opportunities for community members to engage with," said Cohen. "As a local arts agency serving the county, Arts DuPage is in a position to forge new community partnerships that create not only more cultural opportunities, but also use the arts to address pressing social, health, education, and economic development issues."
"Randy Cohen is a man of unbounded energy with tremendous insight into the power of the arts," said Debbie Venezia, director of Arts DuPage. "In the course of the day, he spoke to four distinct audiences—from those who create the arts and their responding audiences, to community leaders and business owners—and conveyed the message that the arts are not only an economic driver, they are a business that contributes to the health of the region in a myriad of ways."
Cohen's visit was the start of an exciting month ahead with arts and cultural activities continuing all October long. See Arts DuPage Month events at artsdupage.org,a comprehensive public listing of performances, festivals, workshops, exhibits, and more. Looking for an adventure? Visit artsdupage.org. It's all here.
See photos from the September 10 events with Randy Cohen on Facebook.
About Arts DuPage Month
Arts DuPage Month (October 1-31) is a community-wide celebration to raise awareness of the rich and diverse arts environment throughout DuPage County. Hosted by Arts DuPage, a DuPage Foundation initiative, Arts DuPage Month highlights the many arts experiences available to residents and visitors. For more information visit artsdupage.org, a public calendar of performances, classes, events, workshops, and fundraisers, as well as directories of organizations, venues, public art, and individual artists.
Connect with Arts DuPage on Facebook and Instagram. To arrange future media opportunities, contact Debbie Venezia, director of Arts DuPage, at 630.598.5299, or debbie@dupagefoundation.org.