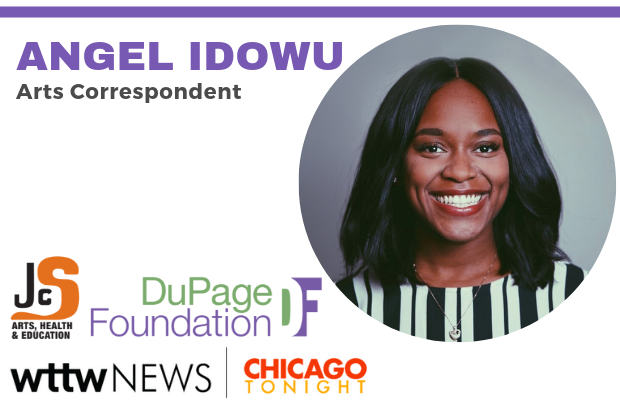 Through a recent grant from the JCS Arts, Health and Education Fund of the DuPage Foundation, WTTW News will expand Chicago Tonight's arts coverage with an endowed, full-time arts correspondent. The arts correspondent will report on and produce exclusive on-air and digital content, covering the gamut of Chicago's rich and diverse arts scene. Angel Idowu will start in this position on July 15.
The JCS Fund of the DuPage Foundation supports instrumental music, cultural, health, educational, artistic, and other charitable organizations serving the needs of DuPage County, with the discretion to support organizations with similar goals that are serving other communities. "The JCS Fund has been an active partner of the Foundation for six years, supporting a variety of local causes including the Young People's Music Initiative, bringing the Chicago Symphony Orchestra to the western suburbs, and the creation of Arts DuPage, a county-wide arts council," said Dave McGowan, DuPage Foundation president & CEO. "We are thrilled to help the JCS Fund achieve its vast charitable goals for the good of our county and beyond, which include high-visibility arts awareness opportunities like this." 
As a proud supporter of the arts and their ability to generate cultural, economic, and social benefits for DuPage County and its residents, the Foundation is thrilled to make possible this expansion of WTTW's arts coverage. "We know audiences will enjoy Angel's unique contributions to Chicago Tonight, and we look forward to enhancing our community's continued appreciation for the arts," said McGowan.
Watch Idowu's feature stories here.
Read WTTW's article "Angel Idowu Joins 'Chicago Tonight' as Arts Correspondent" here.
About the JCS Fund of the DuPage Foundation
The JCS Arts, Health and Education Fund of the DuPage Foundation supports instrumental music, cultural, health, educational, artistic and other charitable organizations serving the needs of residents of DuPage County, Illinois. The Fund is particularly interested in programs that provide long-term benefits. It also has the discretion to support charitable organizations serving other communities if it determines that the goals of those organizations are consistent with its charitable interests. As DuPage County's philanthropic leader, the DuPage Foundation helps individuals and organizations realize their charitable goals while raising the quality of life for our community. Since its inception, the Foundation has grown to more than $95 million in charitable assets and has awarded nearly $45 million in grants to not-for-profits serving our community and beyond. Connect with the DuPage Foundation on Facebook, LinkedIn, and Twitter.
About WTTW & Chicago Tonight
WTTW is the PBS member station in Chicago, committed to creating and presenting unique media content across distinct television and digital channels – WTTW11, WTTW Prime, WTTW Create/WTTW World, WTTW PBS Kids 24/7, wttw.com and the PBS/WTTW video app. Recognized for award-winning journalism and local productions such as Chicago Tonight, Chicago River Tour, Check, Please!, digital-first series Urban Nature and Foodphiles and national productions 10 That Changed America and Nature Cat, WTTW presents the very best in public affairs, arts and culture, nature and science, history and documentary, and children's public media content.  WTTW's flagship nightly newsmagazine Chicago Tonight celebrated 35 years on the air in April 2019. Airing at 7:00 pm weeknights on WTTW11 and live-streamed on Facebook and YouTube, and online at wttw.com/news. The award-winning series hosted by Phil Ponce covers Chicago stories in politics, arts, science and technology, health, business, architecture, education, history, and more. The website presents original reporting, extensive video, a comprehensive archive of Chicago stories and other special features. Connect with WTTW on Facebook, Twitter, and YouTube.