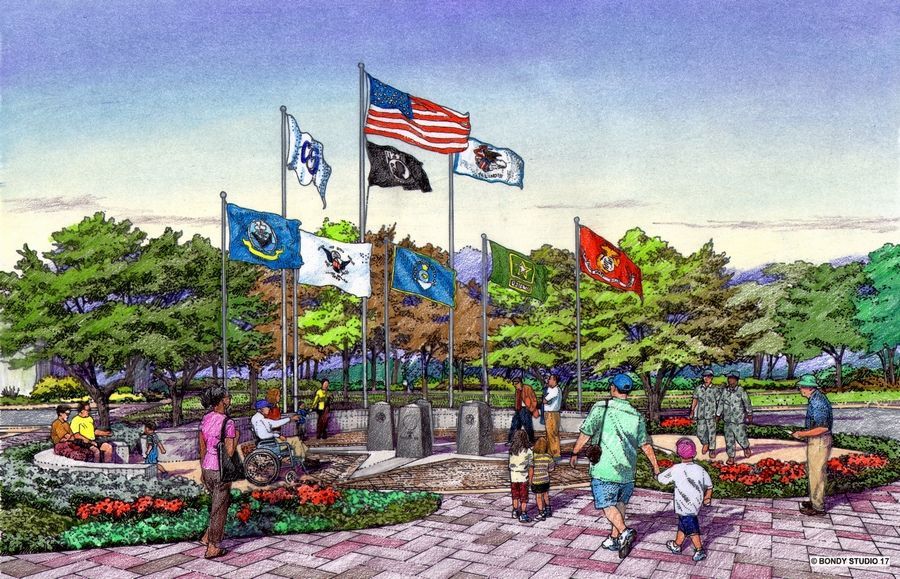 Photo credit: Carol Stream Park District
Paul and Lisa Daley of Carol Stream recently learned that $11,500 was all that was needed to complete the construction of a military service memorial in their hometown. They responded immediately by recommending a $15,000 grant from the Daley Family Fund, their donor-advised fund at the DuPage Foundation.
"We feel it is important to recognize the sacrifice and commitment made by the members of our military," the Daleys said. "We have been fortunate enough to have had a number of family members serve with distinction. That the memorial is in our hometown made the connection even stronger." 
When Jim Benzin, commander of the local VFW and an active member of the task force working to build the memorial, heard about the grant, he was thrilled. He exclaimed, "Finally, no more pancake breakfasts or selling stuff!" The task force had raised $188,500 over the past three years, and the grant from the Daley Family Fund of the DuPage Foundation enabled them to complete this project.  
The memorial, created to honor those who have served and their families, will be unveiled and dedicated on Memorial Day, Monday, May 27, at 10:00 a.m. in the Ross Ferraro Town Center in Carol Stream.
See the Daily Herald article that inspired the Daleys to give. To learn how the Foundation can help you support impactful community projects, contact Mike Sitrick, JD, Foundation vice president for advancement, at 630.598.5285 or mike@dupagefoundation.org.