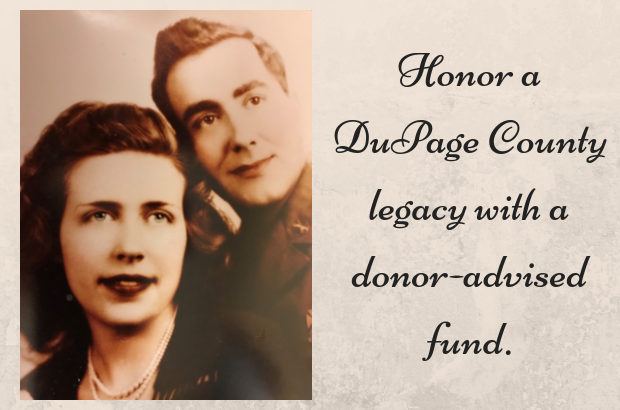 When Joseph and Margery Lamonica committed to something, they were all in. That's one thing that the youngest of their six children, Kathleen Lamonica Krochock, remembers about her parents: their commitment. "It's why I want to give back and support the community in which they raised me," she explained. "For me, that's both personal and professional."
As a trust officer and attorney for 34 years, currently at The State Bank of Geneva, Krochock has spent her career helping families at what are often the most difficult times in their lives. She works closely with their professional advisors to create estate plans and ensure that those plans are executed in accordance with the decedents' wishes. For her, implementing the charitable giving part of their plan with the organizations they care about most is a joy.
From an advisor's standpoint, Krochock speaks highly of donor-advised funds (DAFs) as an effective charitable tool. It's why she recently took her own advice and opened a DAF with the DuPage Foundation. "The Foundation is the right partner to honor my parents because of their local expertise in community needs," she said. "This fund will honor the great life they gave us in DuPage County."
"Donor-advised funds are easy," Krochock said. "You don't need to have an estate plan done in order to start one. You can fund it during your lifetime or at time of death." That is why she'll continue contributing to this fund and increase it through her estate plan. She hopes to introduce her nieces and nephews to the process of deciding where current contributions will go, with the intention they'll carry on the fund after her death. "When they remember me, I hope they'll remember what I valued and what my parents valued: giving back," she said. "That makes me happy."
Opening a donor-advised fund, and including the Foundation in her estate plan, is all about her parents. "It's my gift to them and their legacy," she said. "It's my gift to the community they loved so much and to the following generations." Krochock recognizes that her ability to finance this fund comes back to her parents who afforded her a wonderful career. "The inheritance I have from them is thankfully not something I need to incorporate into my daily finances," she said. "It's because of my parents that I don't need to, and I could use the money to open this legacy fund instead." 
The Foundation's Legacy Society provides a meaningful way to recognize the generosity of those who have made planned gift commitments to benefit our community and the causes they love most. The Foundation is honored to have Krochock's trust in stewarding her planned gift. 
"My parents would be proud," Krochock concluded. 
This article was included in our FY 2018 Annual Report. Read the whole report here.
About the DuPage Foundation
The DuPage Foundation is DuPage County's philanthropic leader. Established in 1986 to raise the quality of life throughout DuPage County, the Foundation serves our community by helping area residents and organizations realize their unique charitable goals, providing impactful support to our community's not-for-profits, and fostering key partnerships to address critical issues affecting DuPage County.
As a 501(c)(3) public charity, the Foundation receives contributions and bequests from individuals, corporations, organizations and foundations looking to make a difference for our community and the causes about which they are most passionate. Since its inception, the Foundation has grown to more than $95 million in assets and awarded more than $40 million in grants to not-for-profit agencies serving the residents of DuPage County and beyond.
For more information about the Foundation, visit dupagefoundation.org. To arrange future media opportunities, contact Melissa Fischer, marketing manager, at 630.598.5290, or melissa@dupagefoundation.org.