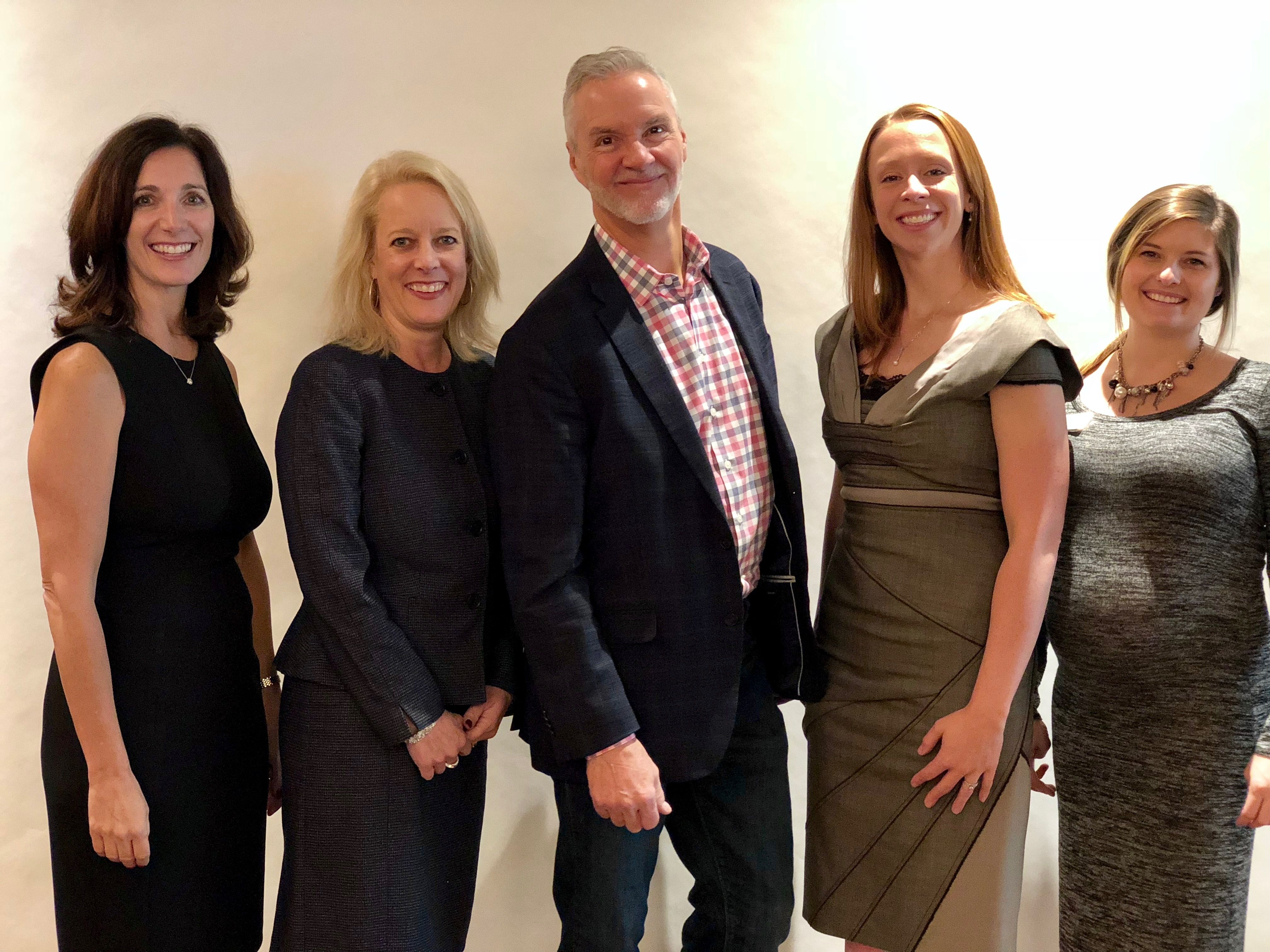 Photo caption: Foundation volunteers Tamara Ortegel, Juliana Maller, Jim Myers, Karen Fleming, and Katelyn Moon were recognized at Giving DuPage's October 25 Volapalooza. Not pictured: June Barnard.
The Foundation was thrilled to celebrate six of our dedicated volunteers at Giving DuPage's Volapalooza, a county-wide recognition of volunteers.
June Barnard
President & CEO, The Driskill Foundation 
New this year to the Foundation's Benefit Committee, June has brought a phenomenal amount of energy, creativity, and personal experience to help us take our annual gala to new heights for the good of our organization and community.
Karen Fleming
Senior Manager, BKD CPAs & Advisors
With a personal love for giving back and knowledge of the financial benefits of charitable giving, Karen is an outstanding vice chair and ambassador for the Foundation's Next Generation Initiative.
Juliana Maller
Village Manager, Village of Hanover Park
With a smile and passion for the cause, Juliana, a member of the Foundation's Next Generation Initiative Steering Committee, is an advocate and connector for community causes. 
Katelyn Moon
Manager of Communications and Administration, The Driskill Foundation
A volunteer extraordinaire, Katelyn makes community service through the Foundation's Benefit Committee and Next Generation Initiative (as well as several other not-for-profits!) a top priority in addition to her work with the Driskill Foundation.
Jim Myers
Chief Creative Officer, Simon/Myers
Always leading with a smile, Jim's guidance as the Foundation's Marketing Committee Chair has been invaluable in helping us develop a strategic plan to increase visibility for our organization and awareness for philanthropy throughout our community. 
Tamara Ortegel:
Independent BEMER Distributor, BEMER International AG
Always willing to roll up her sleeves for a good cause, Tamara is a dedicated member of both the Foundation's Benefit Committee and Next Generation Initiative Steering Committee. She brings creative ideas and a hardworking spirit to her work in the community.
We appreciate the service of these volunteers and all others who generously give their time and talents to the Foundation and our area's not-for-profits.