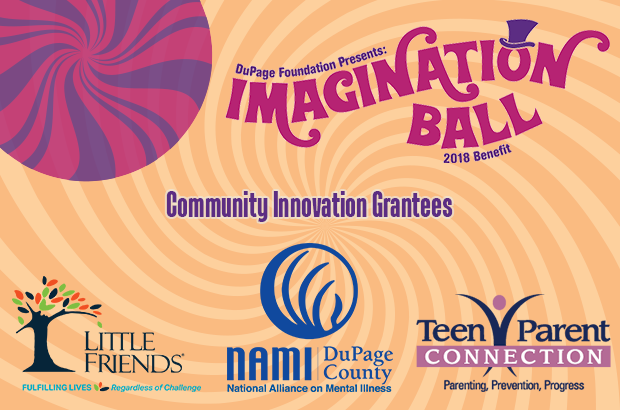 The DuPage Foundation and its Next Generation Initiative (NGI) are pleased to announce the selection of three DuPage area not-for-profit agencies as its 2018 Community Innovation Grantees: Little Friends, NAMI DuPage, and Teen Parent Connection.
The agencies were selected through a competitive application process in recognition for their successful implementation of creative and innovative solutions to community needs and will be featured at the Foundation's Imagination Ball on Saturday, November 17, 2018, at The Westin at Yorktown Center in Lombard. The three agencies will also receive a portion of the proceeds from the evening's paddle raise donations.
Little Friends empowers children and adults with special challenges and their families to live, learn, work, and thrive in their communities. Facilitated with Respite Endowment Organization, Little Friends' Respite Opportunities program offers multi-week sessions for children with special needs and their siblings, ages 5 – 12, featuring indoor and outdoor activities and socialization opportunities as well as providing caregivers opportunities for rest and relief from challenges associated with raising a child with special needs.
NAMI DuPage provides support, advocacy, and education to improve the quality of life for individuals with mental illness. The agency offers job readiness and skills training through its in-house Rise & Shine Print Shop and Café as well as tailored job placement with DuPage County employers. These hands-on experiences provide NAMI clients with the tools, skills, and support they need to gain successful employment.
Teen Parent Connection serves teen parents in DuPage County as they navigate the challenges of parenthood and adolescence. Through the agency's incentive-based Parents' Pantry, young parents, ages 12-22, earn "Baby Bucks" by participating in educational programs, keeping up with their child's immunizations and routine care needs, and finishing school, which they can then exchange for diapers, food, and other essentials.
Across the 40 Community Innovation Grant applications, the NGI Grant Committee learned about many innovative approaches and ideas being implemented by our community's not-for-profits. "Our staff and Committee members were in awe of the vast array of innovative projects and programs at work to benefit DuPage residents," said Foundation Development Officer Kait Balsewicz. "We're thrilled that the Foundation and NGI can play a role in showcasing and supporting their outstanding efforts!"
About the DuPage Foundation
The DuPage Foundation is our community's philanthropic leader. Established in 1986 to raise the quality of life throughout DuPage County, the Foundation helps area residents and organizations realize their unique charitable goals, provides impactful support to our community's not-for-profits, and fosters key partnerships to address critical issues affecting DuPage County. Since its inception, the Foundation has grown to more than $95 million in assets and awarded more than $35 million in grants to not-for-profit agencies serving the residents of DuPage County and beyond. More information: https://dupagefoundation.org/

About Next Generation Initiative
The DuPage Foundation's Next Generation Initiative (NGI) is a group of community-minded individuals working to effect a positive impact within DuPage by engaging and empowering our county's next generation of philanthropic leaders and volunteers and providing them with opportunities to connect, learn and give back. More information: https://dupagefoundation.org/initiatives/next-generation-initiative.html

About the 2018 Imagination Ball Benefit
The Foundation's November 17 Imagination Ball promises to deliver a whimsical evening of dinner, dancing, and a host of fun and surprises inspired by the wonderful world of Willy Wonka. More information: https://dupagefoundation.org/news-events/annual-benefit.html