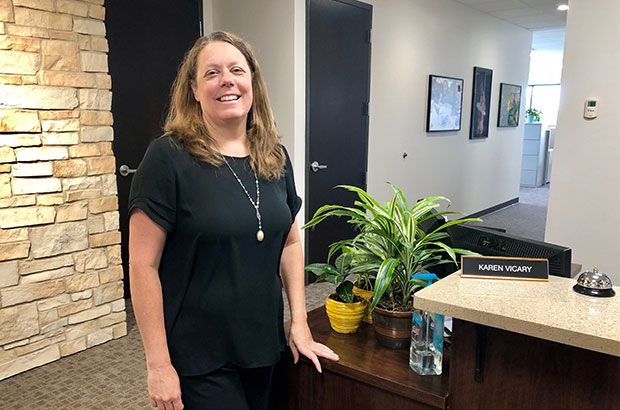 The DuPage Foundation is pleased to announce Karen Vicary as our new office manager. In this role, Vicary assists with accounting, human resources, information technology, and office management in addition to welcoming and training the Foundation's administrative volunteers and interns. She is the first smiling face you'll see when you visit our office.
"The Foundation's office manager is a vital member of our team, keeping the day-to-day operations running smoothly," said David Weisz, vice president for finance. "Because of Karen's previous experience, time management, and organizational skills, I could not be more confident in her ability to excel in this role. We're all thrilled to have her on board!"
Vicary joined the Foundation in June 2018. Previously, she worked as an administrative assistant in the Chaplain's Office at Elmhurst College, where she helped plan religious lectures and college events, managed budgets, and worked with many student organizations. She participated in a First Year Seminar class as a Staff Partner and was a mentor in the Steps to Success program. Vicary also served a two-year term on the college's Staff Council.
"I'm excited to join the DuPage Foundation team, and I'm looking forward to learning more about the ways the Foundation collaborates with other organizations in DuPage County," Vicary said. "In just the first few weeks, I already feel at home here. That says a lot about the Foundation, my fellow staff members, and the many supporters we work with."
While employed at the college, Vicary took classes to complete her degree, graduating summa cum laude in 2016 with a Bachelor of Science degree in Business Administration. Vicary lives in Elmhurst and enjoys reading.
Please join us in welcoming Karen!