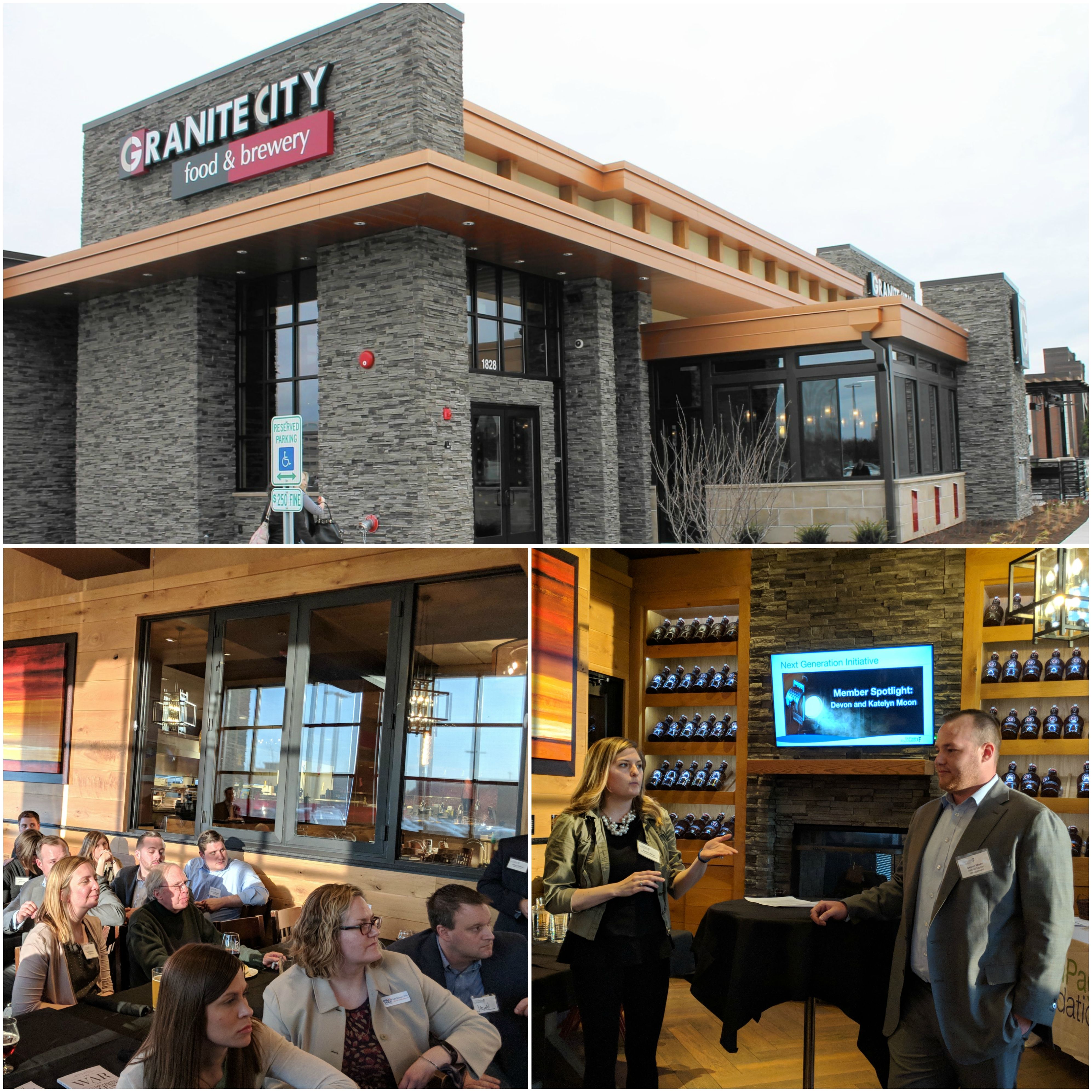 On Thursday, March 22, nearly 50 people gathered at Granite City Food and Brewery ( https://goo.gl/8DcLA2 ) in Naperville for the Next Generation Initiative's (NGI's) ( https://goo.gl/TNwhuZ )March Madness Mixer. While enjoying great food, drinks and comradery, attendees got to learn about and support a great DuPage-based charity, Western DuPage Special Recreation Association, (https://www.wdsra.com ) while watching an exciting NCAA basketball matchup between Loyola University's Ramblers and University of Nevada, Reno's Wolf Pack.
Lea Jackman, WDSRA superintendent of communications and development, and Dirk Glass, a WDSRA trustee, provided an insightful overview of the agency's impactful work on behalf of our community and previewed a special volunteer activity.
As a direct result of participant support and a matching gift from the Next Generation Initiative Fund WDSRA is receiving a $2,000 grant. In addition, on Saturday, April 21, from 9:00 a.m. – 12:00 p.m., NGI volunteers will be rolling up their sleeves to help WDSRA spring clean. Sign up to join us! http://dupagefoundation.org/news-events/ngi-volunteer-opportunity-with-wdsra.html
Following the event Jackman expressed her gratitude in this heart-felt thank-you note:
Thank you so much for such a wonderful opportunity. I thoroughly enjoyed the evening and had some wonderful conversations. There was such a genuine understanding of the value of WDSRA from many who I met for the first time. It is always very powerful when others speak from the heart about the importance of the services provided. Truly wonderful exposure to a driven and passionate group.
What a wonderful concept and for a not-for-profit like WDSRA or any other to be able to "waltz in" and present without any of the logistics of inviting, setting up, arranging, creating the agenda, getting the speakers… what a pure TREAT! THANK YOU!
The evening concluded with NGI Members Devon and Katelyn Moon speaking about their dedication to the DuPage community and the value they have found in participating in the NGI. The Moons emphasized that their fulfillment is grounded in their commitment to teach their young son to be an active and generous person.
Our thanks to all who attended! For more information about the NGI or to become a member or sponsor, please visit our NGI landing page or contact Kaitlyn Balsewicz, Foundation development officer, at kait@dupagefoundation.org or at 630.598.5292.