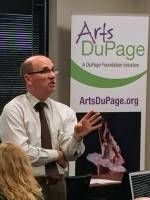 Arts DuPage ( http://www.artsdupage.org ) recently brought the arts community together for a dynamic and engaging workshop led by noted author and LinkedIn guru Wayne Breitbarth. In his presentation of "Five Best Ways to Use LinkedIn to Grow Your Art Business," Wayne helped participants understand how to leverage one of today's most powerful resources to research, network, market and brand their organizations.
Author of the critically-acclaimed book, The Power Formula for LinkedIn Success, Wayne focused on strategies that enable LinkedIn users to build their professional networking platform and cultivate lasting business connections. Wayne inspired both seasoned LinkedIn users and motivated beginners to embrace this powerful tool.
A former skeptic in the world of social media success, Wayne became a convert once he realized the power of LinkedIn. Since that time, he has been internationally recognized as an industry leader, sharing his expertise with more than 80,000 professionals through private consulting and presentations to worldwide audiences.
Plans are being made for Arts DuPage's next workshop, "Using Facebook for Better Social Networking" led by social media expert, Ryan Green. Stay tuned for details!