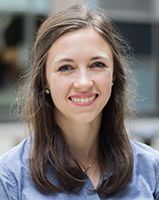 DOWNERS GROVE, Illinois—The Foundation is pleased to welcome Kaitlyn Balsewicz as our new development officer effective Monday, March 5. In her new role, Kait will coordinate Foundation events and assist with all aspects of donor engagement as well as the Foundation's marketing and communications efforts.
A resident of Winfield, Kait previously worked at Interfaith Youth Core (www.ifyc.org) in Chicago as its foundation relations manager. There she collaborated with senior staff to prepare compelling reports and proposals for funding partners, stewarded a grants portfolio of national and family foundations through which she secured more than $7MM in revenue during her tenure, and identified new funding partners through prospect research and relationship building. She is also a dedicated volunteer to and past development intern for Bridge Communities, Inc. (www.bridgecommunities.org) in Glen Ellyn.
"As a life-long resident of DuPage County, I am thrilled to join the DuPage Foundation staff," said Kait. "I look forward to connecting with our diverse and passionate community and encouraging a culture of philanthropy throughout our County."
Kait holds a Bachelor of Arts in religious studies from St. Norbert College.
About the DuPage Foundation
The DuPage Foundation is DuPage County's philanthropic leader. Established in 1986 to raise the quality of life throughout DuPage County, the Foundation serves our community by helping area residents and organizations realize their unique charitable goals, providing impactful support to our community's not-for-profits, and fostering key partnerships to address critical issues affecting DuPage County.
As a 501(c)(3) public charity, the Foundation receives contributions and bequests from individuals, corporations, organizations and foundations looking to make a difference for our community and the causes about which they are most passionate. Since its inception, the Foundation has grown to nearly $90 million in assets and awarded nearly $35 million in grants to not-for-profit agencies serving the residents of DuPage County and beyond.
For more information about the Foundation, visit www.dupagefoundation.org. To arrange future media opportunities, please contact Michael R. Sitrick, JD, vice president for advancement, at 630.598.5285, or mike@dupagefoundation.org.