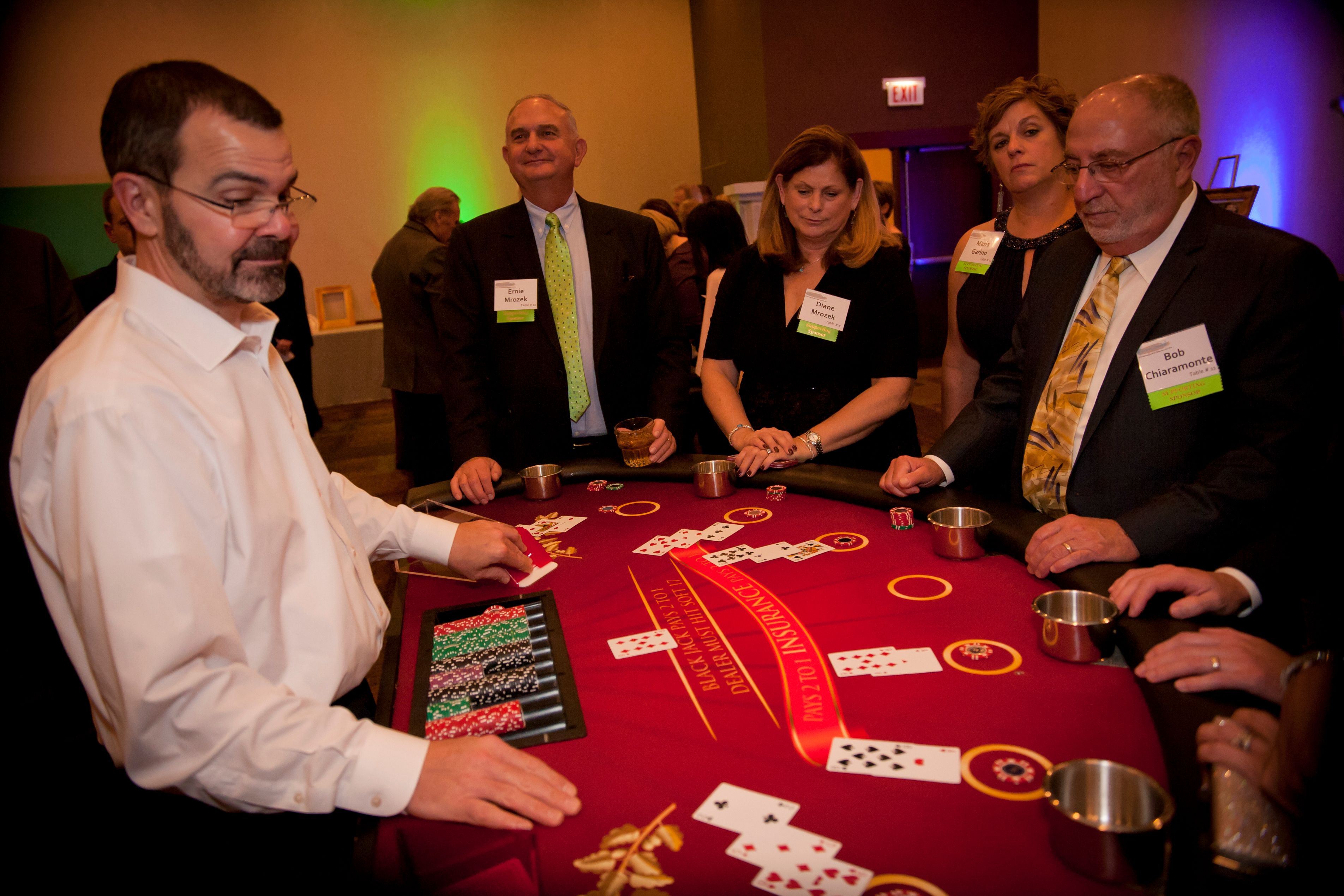 DOWNERS GROVE, Illinois—The DuPage Foundation is pleased to report that its 2017 Annual Benefit, Bonne Soirée: A Foundation Benefit & Celebration of the Arts, was c'est magnifique. The event was held on Saturday, November 18, at the Westin Hotel at Yorktown Center in Lombard.
"Thanks to a groundswell of support from several sponsors and a record number of more than 250 Foundation friends in attendance, this year's Benefit was a resounding success unlike any other," said Dave McGowan, Foundation president & CEO. "From the French market-themed reception complete with live performers and amazing photographs and artwork on display, to the delicious food, French Riviera-style charitable gaming, and musical performances by The Chicago Consort and The Nite Hawks, our guests enjoyed a night to remember."
"We have been overcome by the fantastic amount of support received for the Benefit," added Nathaniel Wasson, Foundation trustee and event co-chair. "Thanks to an outpouring of generosity, we have already generated more than $355,000 in net charitable capital for the Foundation, with donations continuing to come in. This includes more than $270,000 for Foundation operations and programs as well as nearly $85,000 as part of a special paddle raise held the night of the Benefit to create a permanent endowment fund for our new Arts DuPage initiative."
Launched in February of 2017, Arts DuPage is a community-wide arts council focused on promoting creativity and nurturing engagement and investment in the arts throughout DuPage County. Foundation friends Leslie and Mary Wiberg of Wheaton helped encourage gifts in support of Arts DuPage by pledging to match dollar-for-dollar up to $25,000 in contributions received that evening during the Paddle Raise. Visit ArtsDuPage.org to learn more.
"I am so honored to have been a part of the DuPage Foundation's Benefit and to speak on behalf of Arts DuPage," said Diana Martinez, director of College of DuPage's McAninch Arts Center. "What the Foundation is doing for our arts community through this new initiative is nothing short of extraordinary. The Benefit provided a great platform to get the word out."
"What a wonderful event," remarked Mike Havala, president & CEO of Loaves & Fishes Community Services. "The Foundation's team did a marvelous job."
2017 Benefit Sponsors include: Premier Sponsor—Northern Trust; Signature Sponsor—Capital Group with Nathaniel & Sandra Wasson; Supporting Sponsors—BMO Harris Bank, Ernest & Diane Mrozek, Spraying Systems Co., Denise Horne & John Pcolinski, and U.S. Bank; Table Sponsors—William & Jennifer Blum, Executive Construction, Inc. with Daniel & Beth Maguire, G. Carl Ball Family Foundation, Charles & Kathleen McKenna, The McMahon Family, and TC Wealth Partners; Sweet Table Sponsor—DuPage Medical Group Charitable Fund; Media Sponsor—Daily Herald, and Table Supporters—Betsy & Peter Brosnan/Sassetti, LLC, Christopher B. Burke Engineering, Ltd., Stephen & Emily Burt, Carole & Dick Cline, Denice Gierach/The Gierach Law Firm, Christopher & Michele Janc/Abbot Downing, John & Paulette Kaiser, Mary Kay & Al Kluge/Morgan Stanley, Clingen, Callow & McLean, LLC, Dorothy O'Reilly, Steve & Megan Shebik, Joyce Webb & Walter Hutter, and Wheaton Park District.
The Foundation would also like to extend a special thanks to the following: members of the Benefit Planning Committee; AlphaGraphics (Wheaton) for defraying event printing costs; Dusty Holoubek of My Marketing Tech for in-kind photography; Chris Hensley of Northwestern Memorial Foundation, for serving as event auctioneer; Bryan Sullivan of PSAV for defraying A/V costs of the event; Diana Martinez of College of DuPage's McAninch Arts Center for speaking, The Chicago Consort for their in-kind performance, and Phillip's Flowers for defraying floral costs.
About the DuPage Foundation
The DuPage Foundation is DuPage County's philanthropic leader. Established in 1986 to raise the quality of life throughout DuPage County, the Foundation serves our community by helping area residents and organizations realize their unique charitable goals, providing impactful support to our community's not-for-profits, and fostering key partnerships to address critical issues affecting DuPage County.
As a 501(c)(3) public charity, the Foundation receives contributions and bequests from individuals, corporations, organizations and foundations looking to make a difference for our community and the causes about which they are most passionate. Since its inception, the Foundation has grown to nearly $90 million in assets and awarded nearly $35 million in grants to not-for-profit agencies serving the residents of DuPage County and beyond.
For more information about the Foundation, visit www.dupagefoundation.org. To arrange future media opportunities, please contact William Pearch, marketing manager, at 630.598.5290, or bill@dupagefoundation.org.