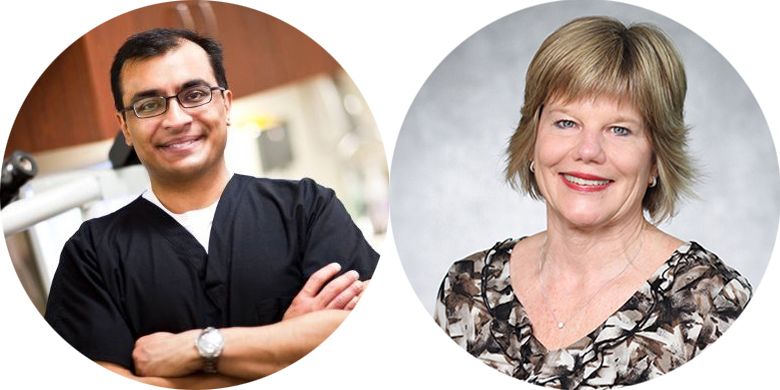 DOWNERS GROVE, Illinois—The DuPage Foundation extends a sincere thanks to Dr. Ashish C. Bhatia for his distinguished service to the DuPage Medical Group Charitable Fund (DMGCF) Advisory Board. His leadership as Board chair for the past seven years was instrumental in launching the Fund. Dr. Amy Stoeffler was named as the Fund's new chair.
In addition to his service on DMGCF's Advisory Board, Dr. Bhatia had previously served on the Foundation's Board of Trustees, Financial Operations and Investment committees.
"Community members like Dr. Bhatia have played an integral role in bringing new ideas and experiences to the Foundation and to the communities we both serve," said Dave McGowan, Foundation president & CEO. "He's helped advance our mission and improve the lives of DuPage County residents in many ways."
"Dr. Bhatia was the Charitable Fund's founding chairperson and has been an amazing mentor, supporter, leader and friend," said Peri Todd, DuPage Medical Group's director of clinical research/Charitable Fund. "I am looking forward to Dr. Stoeffler's new ideas and the energy she is sure to bring to the table."
About the DuPage Medical Group Charitable Fund
DuPage Medical Group (DMG) is actively involved in philanthropy and community service as a way of giving back to the community in which we live and work. As part of this effort, the DuPage Medical Group Charitable Fund was established to provide a coordinated approach of obtaining contributions and giving.
The Fund seeks out community and health partners that serve those in need, particularly in the areas of food, shelter and healthcare delivery. In addition to providing financial support to these organizations, the Charitable Fund provides in-kind donations, such as food, toys, coats and books. Volunteer service is also a key component of giving. Financial contributions are extended by physicians and staff taking a hands-on role in helping these organizations.
About the DuPage Foundation
The DuPage Foundation is DuPage County's philanthropic leader. Established in 1986 to raise the quality of life throughout DuPage County, the Foundation serves our community by helping area residents and organizations realize their unique charitable goals, providing impactful support to our community's not-for-profits, and fostering key partnerships to address critical issues affecting DuPage County.
As a 501(c)(3) public charity, the Foundation receives contributions and bequests from individuals, corporations, organizations and foundations looking to make a difference for our community and the causes about which they are most passionate. Since its inception, the Foundation has grown to nearly $90 million in assets and awarded nearly $35 million in grants to not-for-profit agencies serving the residents of DuPage County and beyond.
For more information about the Foundation, visit www.dupagefoundation.org. To arrange future media opportunities, please contact William Pearch, marketing manager, at 630.598.5290, or bill@dupagefoundation.org.