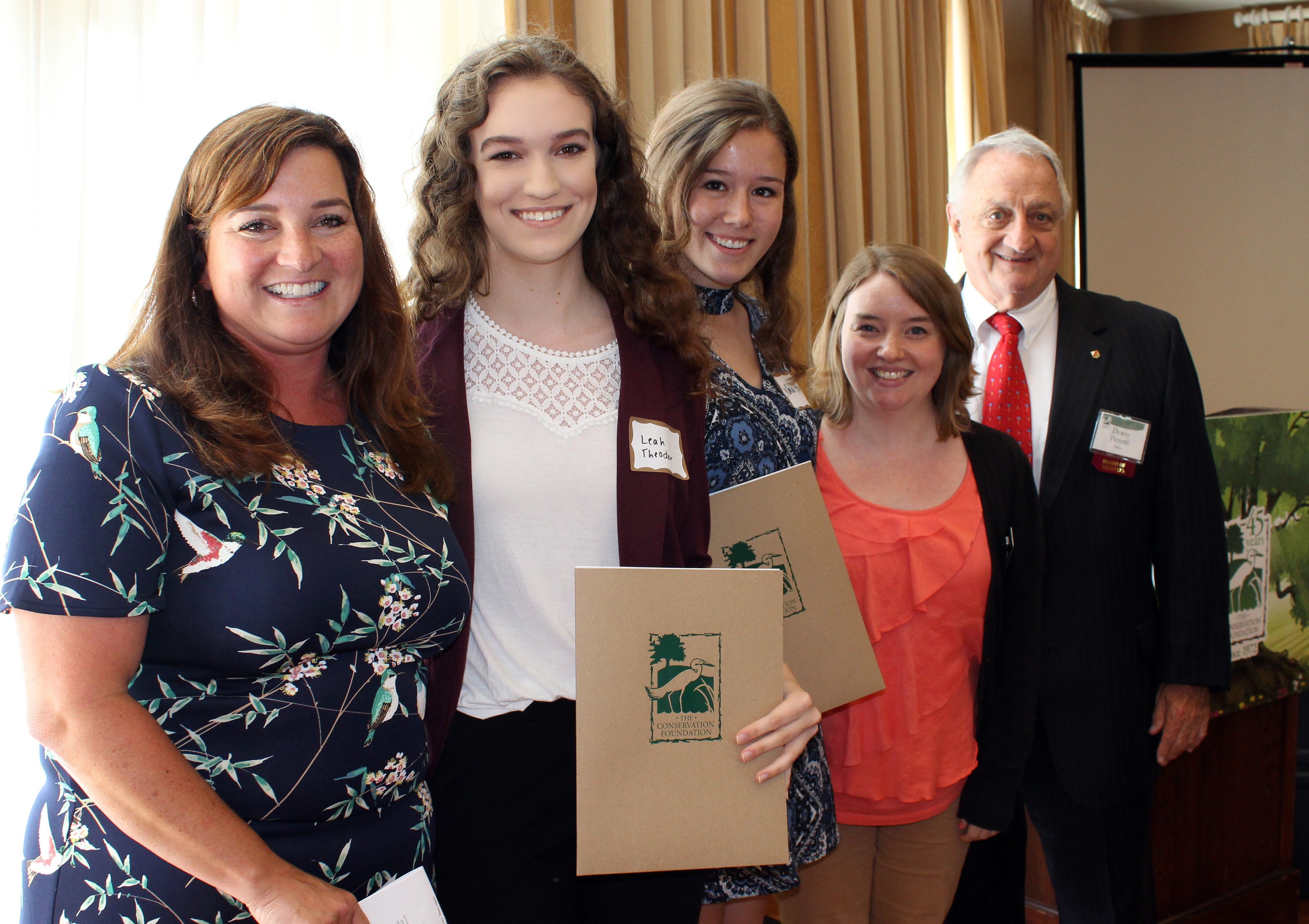 Foundation Program Associate Laura Ernst attended The Conservation Foundation's Spring Membership & Awards Luncheon at Arrowhead Golf Club. Ernst (second from right) helped recognize two area students, Leah Theodor (second from left) and Nina Hulet (third from left), who received scholarships awarded by the Paul D. Pierotti Memorial Scholarship Fund of the DuPage Foundation. Also pictured: Lynn Boerman (left); and D. "Dewey" Pierotti, Foundation fund advisor (right).
DOWNERS GROVE, Illinois—Two area students each recently received $3,750 in scholarship awards from the Paul D. Pierotti Memorial Scholarship Fund of the DuPage Foundation. The students, Leah Theodor and Nina Hulet, were recognized at The Conservation Foundation's Spring Membership and Awards Luncheon on June 15 at Arrowhead Golf Club in Wheaton.
Scholarship applicants must have an interest in working in the environmental field and be associated with The Conservation Foundation (TCF). The scholarships are awarded annually to students from DuPage and neighboring counties within TCF's service area.
Leah Theodor, 18, of Oswego, is a graduate of Oswego High School. She plans to attend North Central College to study environmental science. Theodor has volunteered at Fox Valley Wildlife Center, is a National Honor Society member, and is an active member of the La Menu Modelle 4-H Club. She hopes to pursue research opportunities and an internship in conservation.
Nina Hulet, 18, of Wheaton, is a graduate of Benet Academy in Lisle. She plans to study biology and environmental science at Villanova University. Hulet spent two summers as a junior naturalist at Willowbrook Wildlife Center and was selected as a young naturalist for an internship at Shedd Aquarium.
Former Forest Preserve District of DuPage County President D. "Dewey" Pierotti, Jr. and his wife Leslie established the scholarships at the DuPage Foundation in 2006 in memory of their late son Paul. Since that time, scholarships totaling more than $70,000 have been awarded to area students.
About the DuPage Foundation
The DuPage Foundation is DuPage County's philanthropic leader. Established in 1986 to raise the quality of life throughout DuPage County, the Foundation serves our community by helping area residents and organizations realize their unique charitable goals, providing impactful support to our community's not-for-profits, and fostering key partnerships to address critical issues affecting DuPage County.
As a 501(c)(3) public charity, the Foundation receives contributions and bequests from individuals, corporations, organizations and foundations looking to make a difference for our community and the causes about which they are most passionate. Since its inception, the Foundation has grown to nearly $90 million in assets and awarded more than $30 million in grants to not-for-profit agencies serving the residents of DuPage County and beyond.
For more information about the Foundation, visit www.dupagefoundation.org. To arrange future media opportunities, please contact William Pearch, marketing manager, at 630.598.5290, or bill@dupagefoundation.org.