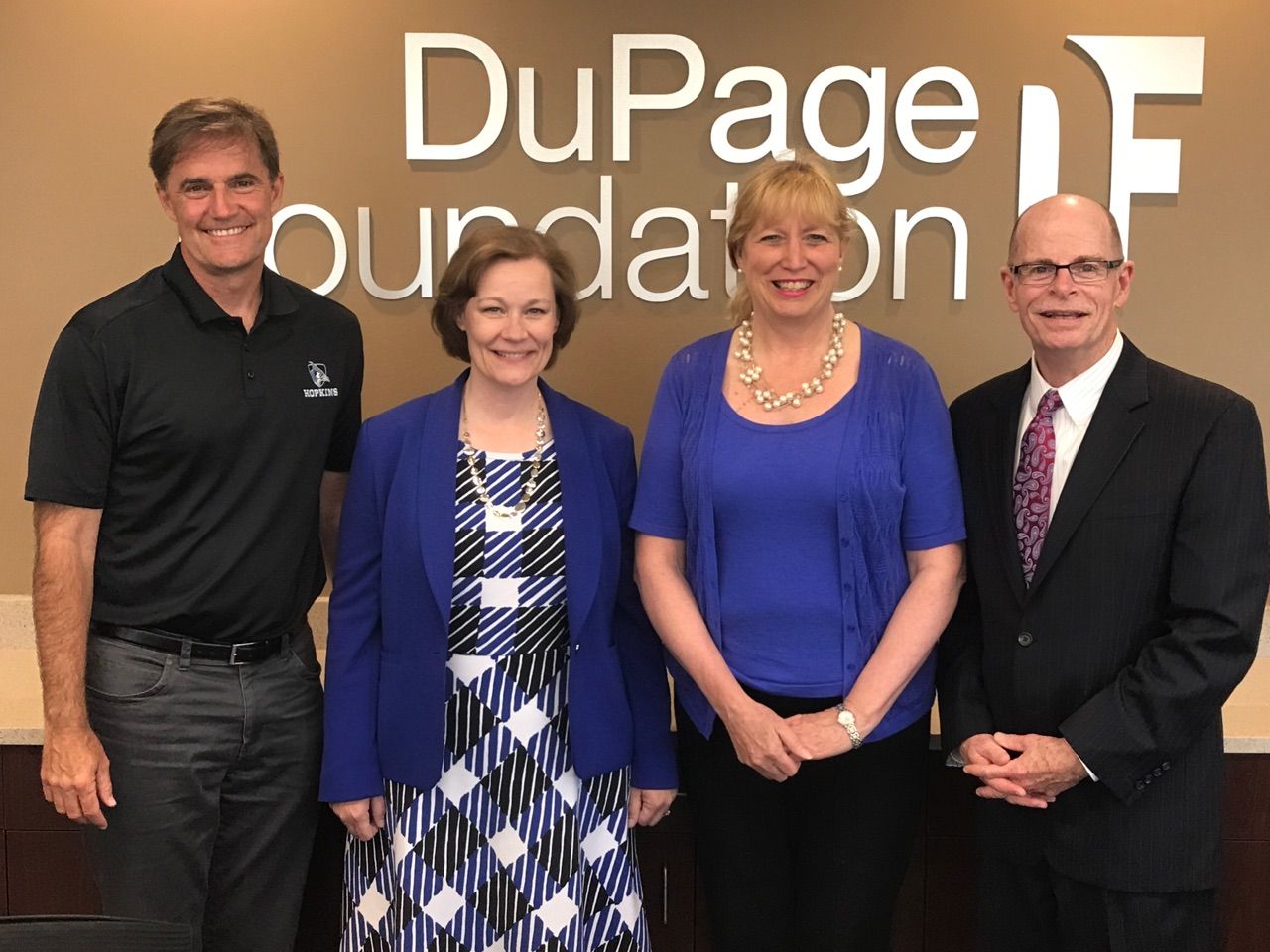 DOWNERS GROVE, Illinois—In a move that bonds two area grant-makers working to ensure that DuPage children are ready for kindergarten, the Gustafson Family Foundation (GFF) of Woodridge voted on Monday, June 5, to transfer its nearly $17 million private foundation to the DuPage Foundation (DF) to establish a donor-advised fund through which GFF will continue its grantmaking going forward.
GFF is forging this partnership with DF to create a sustainable platform from which to operate at a lower cost, eliminate its administrative burdens of operating as a private foundation, provide more advantageous tax benefits for future contributions to it, and to allow its board to benefit from the expertise of DF's knowledgeable program staff and other DF resources. The transfer marks one of our community's largest investments to date in a DuPage-area charity.
"There were many reasons that compelled us to partner with the DuPage Foundation in this way," said Allen Gustafson, president of the GFF. "Beyond the financial advantages, we want to ensure that the Gustafson Family Foundation has a succession plan to continue its legacy of giving created by my parents. This way, no matter which family members and trusted advisors are involved with GFF at any given time, we will have the continuity of the DuPage Foundation helping ensure our continued impact and success."
The two foundations have worked together before—first around GFF's efforts to build an Educare in West Chicago in 2008, and later when GFF made a grant of $1 million to DF's Bright & Early DuPage initiative in 2011, which leveraged a matching gift of $1 million from the Grand Victoria Foundation.
"The Gustafson Family Foundation demonstrated its faith in our ability to help transform the lives of vulnerable youth in DuPage when it invested in our Bright & Early DuPage initiative," said Dave McGowan, president & CEO of the DuPage Foundation. "The GFF board saw the value of bringing additional dollars into DuPage and trusted us to use those dollars to prepare DuPage children for success in school. We couldn't be more pleased with our relationship with Al and the rest of the GFF leaders and are humbled by the confidence they are placing in our ability to steward these assets that are so personal to them."
"Our hope is that this partnership will encourage others in the community to join forces with us and the DuPage Foundation in our efforts to prepare area children for kindergarten," said Gustafson. "DuPage Foundation has been a tremendous champion of early childhood care and education since adopting its Bright & Early DuPage initiative, and we can think of no better partner to help us focus our grantmaking and maximize our impact going forward."
The DuPage Foundation currently provides stewardship for more than 300 funds on behalf of area residents and organizations and works with them to facilitate their giving and grantmaking throughout DuPage County and beyond. The transfer of the Gustafson Family Foundation to the DuPage Foundation will be the largest gift to the DuPage Foundation in its history and take its assets from $71 million to approximately $88 million, an increase of 24%.
About the DuPage Foundation
The DuPage Foundation is DuPage County's philanthropic leader. Established in 1986 to raise the quality of life throughout DuPage County, the Foundation serves our community by helping area residents and organizations realize their unique charitable goals, providing impactful support to our community's not-for-profits, and fostering key partnerships to address critical issues affecting DuPage County.
As a 501(c)(3) public charity, the Foundation receives contributions and bequests from individuals, corporations, organizations and foundations looking to make a difference for our community and the causes about which they are most passionate. Since its inception, the Foundation has awarded more than $30 million in grants to not-for-profit agencies serving the residents of DuPage County and beyond.
For more information about the DuPage Foundation, visit www.dupagefoundation.org. To arrange future media opportunities, please contact William Pearch, marketing manager, at 630.598.5290, or bill@dupagefoundation.org.