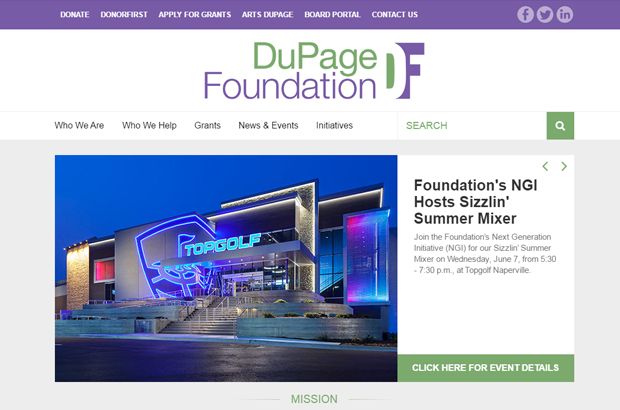 DOWNERS GROVE, Illinois—The DuPage Foundation is pleased to announce the debut of its new website, www.dupagefoundation.org. Officially launched on June 2, the refreshed and fully-responsive site provides both longtime Foundation constituents and first-time visitors with a plethora of new content at their fingertips in a format that is streamlined and highly accessible.
"The new website is the final phase of our rebranding efforts," said Michael Sitrick, Foundation vice president for advancement. "What began with the charge of a new name, logo and office space has now culminated with the launch of our new digital presence."
During the past year, the Foundation's Advancement team collaborated with the Marketing Committee and staff to tackle the task of revamping and optimizing the Foundation's online presence to better serve its constituents.
"We are excited to provide our visitors with a considerably enhanced experience," said Bill Pearch, Foundation marketing manager. "In designing the new site, we carefully considered the needs and interests of our various audiences to guide our efforts. We want new and returning visitors to be able to readily identify how they connect with the Foundation—as donors, not-for-profits, or professional advisors—and to be able to quickly locate the content they are seeking."
The website is easily searchable and organized accordingly:
• Who We Are
• Who We Help
• Grants
• News & Events
• Initiatives
With the new website, the Foundation can spotlight upcoming events and important news with engaging visuals on its home page. Under "Who We Are," visitors can read powerful, personal testimonials from Foundation donors, agency partners and professional advisors communicating their unique stories. Under "Who We Help," donors, not-for-profits and professional advisors can each learn about the many ways the Foundation can help them accomplish their goals and assist their clients. The new "Grants" section highlights the impact of the Foundation's grant programs, promotes funding opportunities and provides easy access to our online grant portal. "News & Events" includes a compendium of recent news announcements, publications, press coverage and upcoming events. Finally, the new "Initiatives" section highlights the Foundation's efforts through its Arts DuPage, Bright & Early DuPage and Next Generation Initiative (NGI).
About the DuPage Foundation
The DuPage Foundation is DuPage County's philanthropic leader. Established in 1986 to raise the quality of life throughout DuPage County, the Foundation serves our community by helping area residents and organizations realize their unique charitable goals, providing impactful support to our community's not-for-profits, and fostering key partnerships to address critical issues affecting DuPage County.
As a 501(c)(3) public charity, the Foundation receives contributions and bequests from individuals, corporations, organizations and foundations looking to make a difference for our community and the causes about which they are most passionate. Since its inception, the Foundation has grown to more than $70 million in assets and awarded more than $30 million in grants to not-for-profit agencies serving the residents of DuPage County and beyond.
For more information about the Foundation, visit www.dupagefoundation.org. To arrange future media opportunities, please contact William Pearch, marketing manager, at 630.598.5290, or bill@dupagefoundation.org.