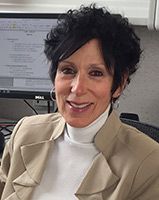 DOWNERS GROVE, Illinois—The DuPage Foundation is pleased to announce the hiring of Deborah Venezia as the new director of our Arts DuPage initiative. In her new role, Venezia will be responsible for leading the Foundation's Arts DuPage Advisory Council to promote creativity and nurture engagement in the arts throughout DuPage County.
"Debbie has earned an outstanding reputation for her passionate support and promotion of DuPage County's cultural environment for nearly 30 years," said Foundation Vice President for Programs Barb Szczepaniak. "With her dynamic personality, she has fostered significant connections between artists and the public to stimulate a deeper understanding and appreciation of the arts in our region."
Since 2002, Venezia has served as the Naperville Art League's executive director. During her 15-year tenure, she increased the organization's revenues by 82% during her first three years; secured more than $500,000 in grants and sponsorships; facilitated workshops, classes, and exhibits; coordinated all aspects of the Naperville Riverwalk Fine Art Fair; and managed all administrative and financial policies, procedures, and controls. She also founded and currently directs the 1,200-plus member After Hours Film Society, which meets at Downers Grove's Tivoli Theatre.
Venezia holds a Bachelor of Arts degree from Rosary College (now Dominican University) in River Forest and is a resident of Naperville.
"I am extremely honored to serve as director of Arts DuPage and I look forward to undertaking the important work of promoting engagement and investment in the arts and creativity throughout DuPage," said Venezia.
About the DuPage Foundation
The DuPage Foundation is DuPage County's philanthropic leader. Established in 1986 to raise the quality of life throughout DuPage County, the Foundation serves our community by helping area residents and organizations realize their unique charitable goals, providing impactful support to our community's not-for-profits, and fostering key partnerships to address critical issues affecting DuPage County.
As a 501(c)(3) public charity, the Foundation receives contributions and bequests from individuals, corporations, organizations and foundations looking to make a difference for our community and the causes about which they are most passionate. Since its inception, the Foundation has grown to more than $70 million in assets and awarded more than $30 million in grants to not-for-profit agencies serving the residents of DuPage County and beyond.
For more information about the Foundation, visit www.dupagefoundation.org. To arrange future media opportunities, please contact William Pearch, marketing manager, at 630.598.5290 or bill@dupagefoundation.org.