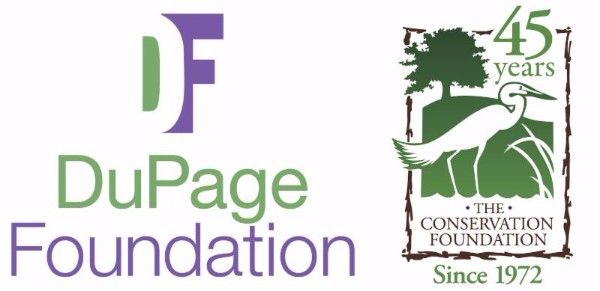 DOWNERS GROVE, Illinois—The DuPage Foundation is pleased to announce the establishment of The Conservation Foundation Agency Fund.
The new agency fund will provide The Conservation Foundation, a not-for-profit land and river protection organization, with support to help carry out its mission to preserve and restore open space and natural lands, protect rivers and watersheds, and promote stewardship of our environment in DuPage and neighboring Illinois counties.
"We are delighted to partner with the DuPage Foundation during our 45th Anniversary celebration," said Brook McDonald, The Conservation Foundation's president & CEO. "Our new agency fund will serve as an effective tool for investing our reserves and bolstering funding for future programs and mission-related work."
"The DuPage Foundation prides itself on its community partnerships and ability to serve as a resource for our area not-for-profits, like The Conservation Foundation, by helping them establish dependable revenue streams and effective planned giving programs," said Dave McGowan, Foundation president & CEO. "We are thrilled to announce the creation of this new fund." To date, the DuPage Foundation manages a portfolio of more than 70 agency funds for area not-for-profits and more than 300 charitable funds in total.
The DuPage Foundation and The Conservation Foundation have maintained a strong relationship over the years with the DuPage Foundation having granted more than $330,000 in support for The Conservation Foundation since its inception. Most recently, the DuPage Foundation awarded The Conservation Foundation a $20,000 grant as part of its Fall Community Needs Grant Cycle, to support The Conservation Foundation's "Conservation in Our Community" program, which is focused on increasing conservation practices based on the specific priorities of local municipalities.
Notably, the late philanthropist and conservationist Brooks McCormick played a critical role in the creation of both the DuPage Foundation and The Conservation Foundation. In 1972, McCormick was a founding member of the Forest Foundation of DuPage, which has become The Conservation Foundation. Then, in 1986, McCormick, along with local civic leader Mary Eleanor Wall and the late Jerry Bradshaw, helped create a permanent endowment that ultimately became the DuPage Foundation.
About the DuPage Foundation
The DuPage Foundation is DuPage County's philanthropic leader. Established in 1986 to raise the quality of life throughout DuPage County, the Foundation serves our community by helping area residents and organizations realize their unique charitable goals, providing impactful support to our community's not-for-profits, and fostering key partnerships to address critical issues affecting DuPage County.
As a 501(c)(3) public charity, the Foundation receives contributions and bequests from individuals, corporations, organizations and foundations looking to make a difference for our community and the causes about which they are most passionate. Since its inception, the Foundation has grown to more than $65 million in assets and awarded nearly $30 million in grants to not-for-profit agencies serving the residents of DuPage County and beyond.
For more information about the Foundation, visit www.dupagefoundation.org. To arrange future media opportunities, please contact William Pearch, marketing manager, at 630.598.5290, or bill@dupagefoundation.org.