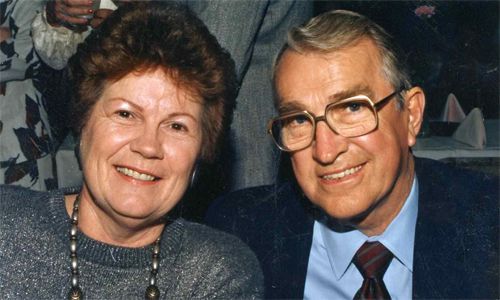 History of the Gustafson Family Foundation Fund
In 1999, Dolores D. and Allen L. Gustafson started the Gustafson Family Charitable Trust, also known as the Gustafson Family Foundation (GFF). The GFF was born out of their hard work, modest lifestyle and philanthropic passions. A Swedish immigrant, Al left high school to begin working as a delivery boy for Cannonball in Chicago, a company that would soon be purchased by UPS. Forty-eight years later he retired from UPS as Regional Manager of their Midwest Region. Throughout his career UPS stock was part of Al's compensation package, and throughout their lifetime, he and Dolores never sold a share of the company that meant so much to them.
Dolores' work centered on the home where she raised two children. She had a gift for making fast friends and developed relationships with people who often go unnoticed—wait staff, hotel housekeepers and children. Their philanthropy began with the acts of charity Dolores extended to people she had gotten to know, such as dental work for a maid she met on vacation or private schooling for a child she thought just needed a chance.
In time, the philanthropy of Dolores and Allen became focused primarily on children. Believing education to be the great equalizer of opportunity, they invested in St. Margaret Mary School in the South Bronx. Through their efforts they helped rebuild a school and church, enabling a community to pursue its dreams and reach its potential. In addition to education, they targeted their giving to organizations serving children struggling from neglect and illness. Toward the end of their lives, each year they would give more than three dollars away for every dollar they spent on themselves.
The trustees of the GFF have worked diligently to preserve the founder's legacy of philanthropy by honoring their intentions, partnering with organizations and communities for the long-term, and investing in the development of others with their same spirit of generosity.
As a private foundation, the GFF invested more than $9 million with partner organizations in DuPage, Cook, and Kane counties with an emphasis on advancing early childhood education and pediatric healthcare.
As it looks to the future as the GFFF donor-advised fund of the DuPage Foundation which was established in 2017, advisors are committed to continuing the legacy of Dolores and Allen.