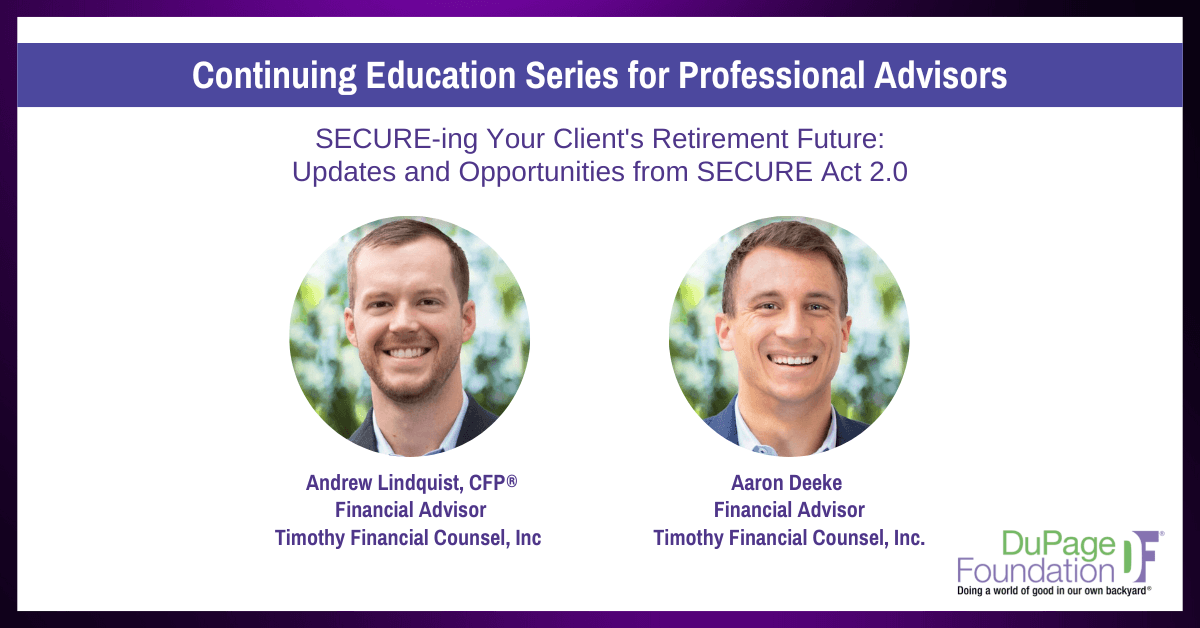 When: Tuesday, March 7 | 7:30 - 9:00 a.m.
Where: DuPage Foundation, 3000 Woodcreek Dr., Ste. 310, Downers Grove, IL 60515
On December 29, 2022, President Biden signed into law the Setting Every Community Up for Retirement Enhancement Act of 2022 (SECURE Act 2.0). The law builds upon the initial SECURE Act, passed in 2019, and includes dozens of new provisions aimed at helping individuals save more effectively for retirement. SECURE Act 2.0 also changes some of the rules governing certain charitable gifts of retirement assets.
Join DuPage Foundation for a timely educational seminar where Timothy Financial Counsel, Inc. financial advisors Andrew Lindquist, CFP® and Aaron Deeke will share strategies for helping clients accomplish their goals and maximize charitable giving opportunities under SECURE Act 2.0. 
Topics To Be Covered: 
•    Individual and Employer Retirement Accounts
•    Education Account Rollovers
•    Reducing RMDs with QCDs
•    SECUR-ity in times of Emergency and Hardship
Agenda:
7:30 a.m.    Complimentary Breakfast & Networking
7:50 a.m.    Welcome & Introduction of Speakers
8:00 a.m.    Program
9:00 a.m.    Q & A and Closing Remarks
This form stopped accepting submissions on March 7, 2023 7:30 am CST.
Seating is limited.
About the Presenters:
Andrew Lindquist and Aaron Deeke are financial advisors with Timothy Financial Counsel, Inc., a fiduciary fee-only financial planning firm in Wheaton, IL. Using a team approach business model, the firm provides a wide variety of clients with holistic financial planning and guidance.  Both Lindquist and Deeke joined Timothy Financial in 2021.
Lindquist, who holds his CFP® designation, graduated cum laude from Wheaton College with a bachelor's degree in Economics and Spanish and earned a Master of Education in Curriculum and Instruction from Dominican University. He lives in Wheaton with his wife and two children. In his free time, Andrew enjoys playing basketball and golf and closely follows Chicago's professional sports teams.
Deeke graduated from the University of Illinois Urbana-Champaign with a Bachelor of Science in Actuarial Science, and is currently pursuing the CFP® designation. He lives in Wheaton and fills his time playing sports with his friends and exercising with his fiancée.
---
Note: This program has been approved for 1 hour of CFP, CPE, and PRMCLE (Professionalism) credit, and 1.25 hours of CISP, CRSP, and CTFA credit.