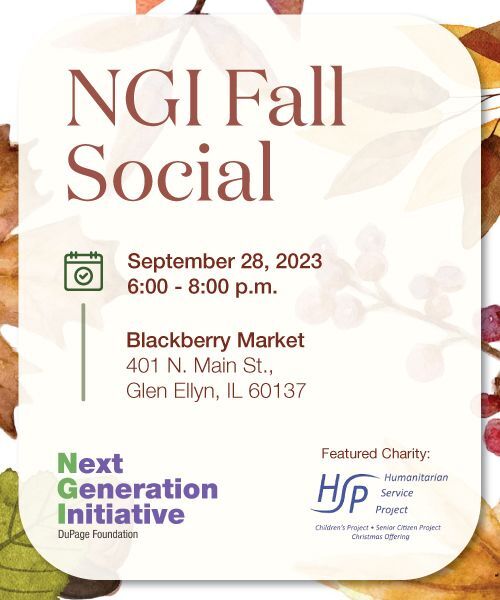 On Thursday, September 28, the Next Generation Initiative (NGI) hosts its fall social at Blackberry Market in Glen Ellyn (401 N. Main St., Glen Ellyn). Embrace the crisp autumn air and the spirit of giving as we come together to positively impact our community. Engage in meaningful conversations with fellow attendees, old friends, and new acquaintances while supporting a great cause.
Focusing on food insecurity, the featured charity is Humanitarian Service Project (HSP). HSP's mission is to alleviate the pain and suffering that poverty brings to seniors and children without discrimination or exclusion for any reason.
Make an Impact
NGI engages and empowers our county's next generation of philanthropic leaders by providing opportunities to connect, learn, and give back. As NGI members and friends, we ask you to participate in the giving process by supporting our grant to Humanitarian Service Project.
The Mulholland Family Fund of DuPage Foundation will generously match contributions made to NGI for the Humanitarian Service Project grant, totaling up to $2,500.