Upcoming Events
Two Opportunities to See National Arts Leader Randy Cohen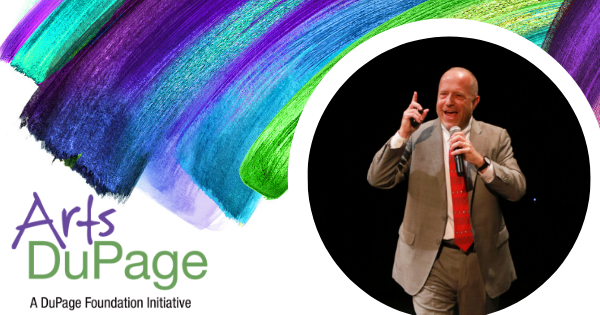 To kickoff 31 days of Arts DuPage Month in October, Randy Cohen will visit DuPage County to put arts, culture, and entertainment into the spotlight. A powerful arts leader at Americans for the Arts, Cohen will make a case for how the arts are an essential component for healthy, vibrant communities.
You're invited to one or both of the following events with Randy Cohen. Please note the times/locations of each and register for whichever event(s) you'd like to attend. Seating is limited for both events.
Afternoon Workshop:
Building a Better Community Through the Arts
2:00 - 3:00 p.m.
DuPage Foundation
3000 Woodcreek Dr., Ste. 310, Downers Grove
Randy Cohen will host a presentation geared toward libraries, park districts, and arts organizations that demonstrates how the arts are a fundamental part of a strong community and how local arts agencies like Arts DuPage act as the conduit that enables organizations to create a more vital presence for the arts.
Evening Reception:
Partnering with the Arts: An RX for a Healthy Community
5:00 - 7:00 p.m.
McAninch Arts Center, College of DuPage
425 Fawell Blvd., Glen Ellyn
The arts are a necessary component of a flourishing community. Randy Cohen will highlight the power of the arts and talk about why they are essential for a community's health and vitality. Enjoy refreshments and light fare while you learn tips to effectively advocate for the arts throughout our community, and beyond.
RSVP by Friday, September 6.
About the Presenter:
Randy Cohen is vice president of research and policy at Americans for the Arts, the nation's leading arts advocacy organization. A member of the staff since 1991, he is a noted expert in the field of arts funding, research, and using the arts to address community development issues. A sought-after speaker, Cohen has given speeches in all 50 states, and regularly appears in the news media—including the Wall Street Journal, The New York Times, and on C-SPAN, CNN, CNBC, and NPR.