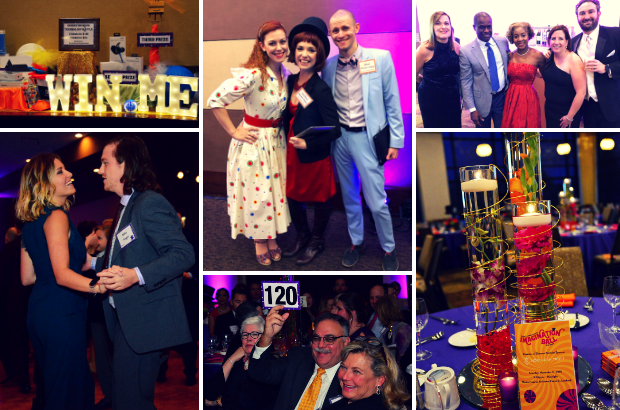 From surprise Golden Tickets, to scrumdiddlyumptious cocktails and entrees, to an everlasting supply of candy and fun, the DuPage Foundation's Imagination Ball was a night to remember as it raised vital dollars for Foundation operations and programs aimed at raising the quality of life throughout DuPage County.
Held on Saturday, November 17, at The Westin at Yorktown Center in Lombard, and attended by more than 250 people, the Imagination Ball has grossed more than $435,000 to date, with additional contributions still being received.
The event's paddle raise featured the Foundation's Next Generation Initiative (NGI) and showcased the innovative community impact of three local not-for-profits: Little Friends, NAMI DuPage, and Teen Parent Connection, The agencies were selected as part of the Foundation NGI's Community Innovation Grant program, a competitive grant cycle held over the summer, and each agency received grants of $12,500 thanks to the generous contributions of attendees and matching challenge contributions from several Foundation stakeholders.
Just like Willy Wonka and his wondrous factory, these agencies are doing innovative work that is transforming the lives of DuPage residents.
"Little Friends' Respite Opportunities program offers multi-week sessions for children with special needs and their siblings, ages 5 – 12, featuring activities and socialization opportunities as well as providing caregivers opportunities for rest and relief from challenges associated with raising a child with special needs," said Mike Briggs, president and CEO of Little Friends. "We are grateful to the DuPage Foundation and its donors for their continued support to help our clients and their families lead fulfilling lives, regardless of challenge."
NAMI DuPage's Supported Employment Director Mark Dennison said they were honored to be one of the Foundation NGI's Community Innovation Grant recipients. "DuPage Foundation truly is the leader in joining donors with great and innovative organizations making a difference in the DuPage community," he said. "The Imagination Ball was a heartfelt event that showcased the Foundation's mission."
Teen Parent Connection Executive Director Becky Beilfuss echoed Briggs' and Dennison's comments. "The Imagination Ball provided us with a fun and wonderful opportunity to share our mission with donors who support the vital work of the DuPage Foundation and its Next Generation Initiative," she said. "We are proud and grateful to be recognized for our Baby Bucks program, which helps provide young parents with the essentials they need to care for their babies." Beilfuss added, "We had a blast at the ball. It was so creative! Really well done!"
"With more than 260 guests, this year's benefit was our largest and most successful to date," said Mike Sitrick, Foundation Vice President for Advancement. "It was fantastic to have so many Foundation friends and partners on hand to celebrate with us. Their support is vital to our success and is what fuels our ability to increase the breadth of our community impact each year. We are truly grateful for their generosity and investment in our work."
Premier Sponsor Northern Trust could not have been more proud of their event sponsorship. "The evening was a fun-filled ode to philanthropy and community, a tremendous success by all measures!" said Roger McDougal, Foundation Trustee and Northern Trust's senior vice president and managing director.
Success would not have been possible without the support of our many event sponsors:
Dreamer of Dreams Premier Sponsor
   Northern Trust
Inventing Room Raffle Sponsor
   The Curiosity and Creativity Fund
Music Makers Entertainment Sponsor
   The Shebik Family
Golden Goose Support Sponsors
   BMO Harris Bank
   Ernie & Diane Mrozek
   Spraying Systems Co.
   U.S. Bank
Bucket Family Table Sponsors
   Bill & Jen Blum
   BNY Mellon Wealth Management
   Steve & Emily Burt
   Capital Group with Nate & Sandra Wasson
   Charlie & Kathy McKenna
   The McMahon Family
   TC Wealth Partners/Trust Company of Illinois
Grandpa Joe's Valet & Security Sponsor
   Christopher B. Burke Engineering, Ltd.
Mike Teavee's Late Night Snack Sponsor
   The Driskill Foundation
WonkaVision Video Sponsor
   Paul Gregory Media
Chocolate River Fountain Sponsor
   DuPage Medical Group Charitable Fund
Candy Man Sponsors
   Bill & Jen Blum
   Dorothy O'Reilly
Recap the whimsical, Willy Wonka-inspired celebration using the following links:
About the DuPage Foundation
The DuPage Foundation is DuPage County's philanthropic leader. Established in 1986 to raise the quality of life throughout DuPage County, the Foundation serves our community by helping area residents and organizations realize their unique charitable goals, providing impactful support to our community's not-for-profits, and fostering key partnerships to address critical issues affecting DuPage County.
As a 501(c)(3) public charity, the Foundation receives contributions and bequests from individuals, corporations, organizations and foundations looking to make a difference for our community and the causes about which they are most passionate. Since its inception, the Foundation has grown to more than $95 million in assets and awarded more than $40 million in grants to not-for-profit agencies serving the residents of DuPage County and beyond.
About the Next Generation Initiative (NGI)
The DuPage Foundation's Next Generation Initiative (NGI) is a group of community-minded individuals working to effect a positive impact within DuPage by engaging and empowering our county's next generation of philanthropic leaders and volunteers and providing them with opportunities to connect, learn and give back. For more information or to become a member or sponsor visit: https://dupagefoundation.org/initiatives/next-generation-initiative.html
About the NGI Community Innovation Grant
The DuPage Foundation and its Next Generation Initiative (NGI) launched a special grant opportunity in June 2018 seeking to culminate at the November 17, 2018 Imagination Ball. The grant sought to highlight three not-for-profit organizations that successfully established creative and innovative solutions to community needs, specifically those that were inclusive, creative, and resourceful. The 2018 Community Innovation Grantees, Little Friends, NAMI DuPage, and Teen Parent Connection, were selected through a competitive application process, featured at the Foundation's Imagination Ball, and each received grants of $12,500.