Testimonials
YWCA Metropolitan Chicago Supports Willowbrook Corner Early Childhood Coalition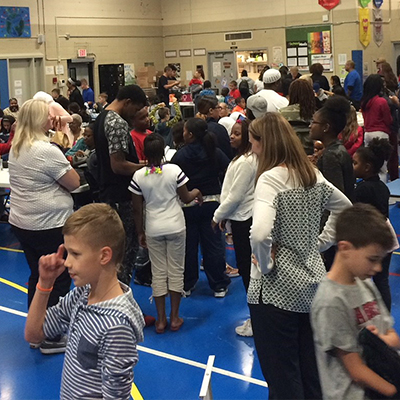 DOWNERS GROVE, Illinois—Through our Bright & Early DuPage initiative, the DuPage Foundation is helping local communities develop collaborative systems to ensure that DuPage children are ready to succeed when they enter kindergarten. Since the initiative's launch in 2012, the Foundation's financial investments and leadership have served as a major catalyst in changing the overall landscape of early childhood care and education in DuPage County.
This past summer, the Foundation awarded a Bright & Early DuPage grant to the YWCA Metropolitan Chicago to support the work of the Willowbrook Corner Early Childhood Coalition. The funding, which came from the Snodgrass Family Fund (see page 7 of our Fall 2017 newsletter for details), enabled the Coalition to hire Gloria McCants to develop their outreach to the many low-income and at-risk families living in that community.
"We are grateful for the opportunity to strengthen the early childhood infrastructure in the Consolidated Community School District #180 catchment area (which includes Willowbrook Corner)," said Marianne Pokorny, YWCA's senior manager of strategic engagement. "So many good things are happening in the Willowbrook Corner Community, thanks to the receipt of Bright & Early Grant Funding. Gloria McCants, our community outreach specialist, is doing an amazing job connecting with the community. Gloria has early childhood and counseling experience and is working on her master's in counseling. She has been a boots-on-the-ground liaison, supporting PFA (Preschool for All), Head Start and parents in the district boundaries. She has also been trained to implement the ASQ and as a Parent Mentor."
"Gloria has also spoken at and connected with parents at the District's Community Connection evenings on a regular basis and met with the local children's librarian from Darien Public Library," added Pokorny. "She has connected at the food pantry with families and is currently designing a presentation and handouts on how to feed your baby with items families receive from the food pantry itself. In early November, she will be on a presentation for parents on mindfulness with children."
About the DuPage Foundation
The DuPage Foundation is DuPage County's philanthropic leader. Established in 1986 to raise the quality of life throughout DuPage County, the Foundation serves our community by helping area residents and organizations realize their unique charitable goals, providing impactful support to our community's not-for-profits, and fostering key partnerships to address critical issues affecting DuPage County.
As a 501(c)(3) public charity, the Foundation receives contributions and bequests from individuals, corporations, organizations and foundations looking to make a difference for our community and the causes about which they are most passionate. Since its inception, the Foundation has grown to nearly $90 million in assets and awarded nearly $35 million in grants to not-for-profit agencies serving the residents of DuPage County and beyond.
For more information about the Foundation, visit www.dupagefoundation.org. To arrange future media opportunities, please contact William Pearch, marketing manager, at 630.598.5290, or bill@dupagefoundation.org.