Testimonials
Not Taken for GRANTed: GardenWorks Project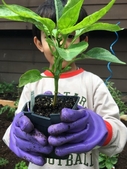 Recipients of Community Needs Grants from the Foundation are required to submit final reports within one year describing the impact of the funding they received. This is a summary of a final report.
The GardenWorks Project was awarded a $2,304 mini-grant in to purchase supplies for the Home Gardening Program, which teaches low-income families how to grow fruits and vegetables at home.
The grant funded the materials needed to provide additional support to families that had already received home gardens, as well as materials to establish new gardens. GardenWorks offers spring and fall refreshes for three years after the initial garden is built to provide compost, seeds, seedlings, and continued education to the households.
In 2017, GardenWorks constructed gardens for food-insecure families referred by more than 30 food pantries and social service organizations in DuPage County. The Home Gardening Program's goal was to support 70 households with home gardens. Due to the significant demand from clients, GardenWorks exceeded their goal and served 87 households!
The following story illustrates the impact GardenWorks has had on their clients:
"A family who has had significant health concerns over the recent years applied for our program due to their financial issues related to healthcare costs. They found the gardens to be both beneficial for additional supplements for their dinner table, but also to provide opportunities to be outdoors and enjoy the seasons. They recently approached GardenWorks to sign up as a volunteer. Their intention is to give back what they received."