Testimonials
Building Bridges to the Future Transition Program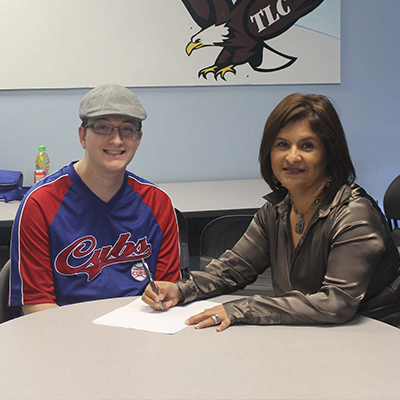 Recipients of Community Needs Grants from the Foundation are required to submit final reports within one year describing the impact of the funding they received. This is a summary of a final report.
UCP Seguin of Greater Chicago was awarded a $15,000 grant in 2016 to support the Building Bridges to the Future Transition Program in DuPage County. The program facilitates the transition into adulthood of developmentally disabled students (ages 14-25) by providing coaching, linkages to financial, medical, and legal resources, and adult services training experiences.
In the last year, the Building Bridges to the Future Transition Program exceeded their goal and served 50 DuPage County students with developmental disabilities and their families. The primary UCP Seguin program staff in DuPage are Latino and bilingual in English and Spanish. This has helped break down cultural and language barriers for Latino families, which make up 40% of those served by the program.
The following story illustrates the impact that the Building Bridges to the Future program has had on students:
"Early last summer, we learned of a low-income Villa Park resident ("Jamey") who was the mother of a student with autism ("Bethany"), who had recently turned 18 years old. The day Bethany became an adult, Jamey lost legal guardianship of Bethany, who was now expected to make decisions on her own. Jamey did not know how or even if she could afford to gain guardianship of Bethany through the labyrinth of the DuPage County court system. Our staff researched the steps Jamey would need to take and acquired the free legal representation she needed. In a surprisingly short period of time, Jamey got into court and regained legal guardianship of Bethany. Jamey and the officials at Bethany's school were thrilled with the services we provided and began referring many other parents to seek assistance from us. Similar situations have occurred in every new district and school we have entered over the past eight years, which has led to greater awareness and steady growth of the program."
Photo description – "A special education student, William Krajecki of Elmhurst, who attends the Bensenville-based Transition Learning Center and (on the right), Laura Gonzalez, project supervisor for UCP Seguin's Building Bridges to the Future Transition Program."