Testimonials
Bright and Early DuPage Update: 2012 - 2017 Map Comparison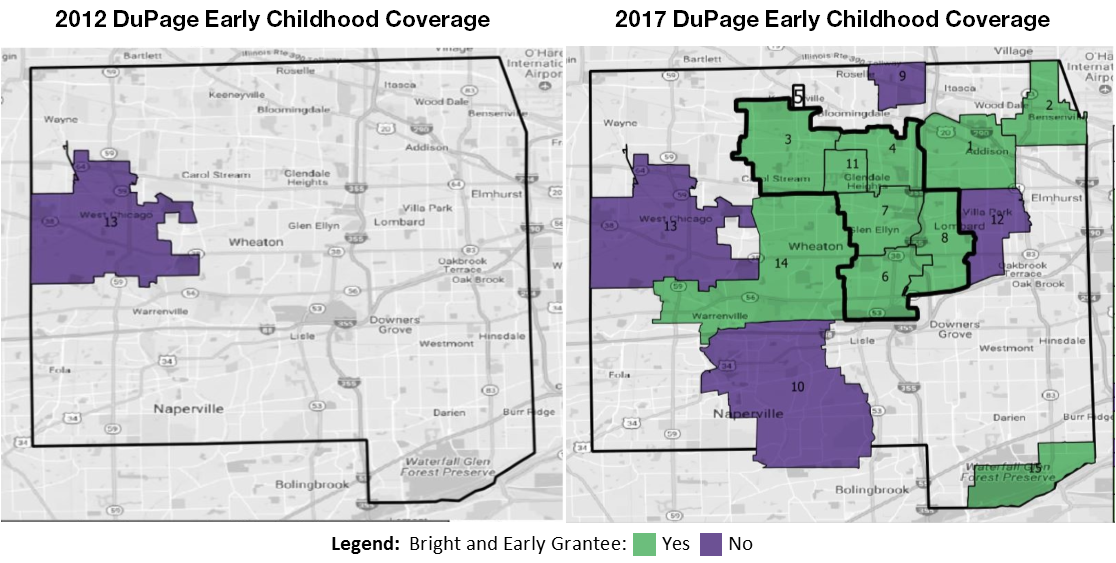 Through our Bright & Early DuPage ( https://goo.gl/kLvL1m ) initiative, the Foundation is helping local communities build coordinated early childhood systems that actively work to increase access to quality education and support for at-risk children and families. The overall goal of Bright & Early is to ensure that more DuPage kids are ready to succeed when they enter kindergarten.
"Within the collaborations, partners who have not traditionally engaged in early childhood programming are now working side-by-side with those who directly provide care and education for our youngest residents," said Barb Szczepaniak, Foundation vice president for programs. "These collective efforts have served as a catalyst in changing the mindset about the importance of early childhood programs in DuPage County."
When the Bright & Early DuPage initiative launched in 2012, there was one formal early childhood collaboration. With the Foundation's support, the landscape looks much different today. "Our goal is to have an early childhood collaboration in every DuPage community," said Foundation Trustee Nate Wasson. The Foundation is well on the way to making that happen!