Yusra Javed Chaudhry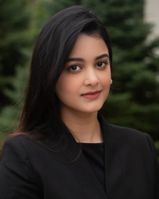 Yusra Javed Chaudhry | Graphic Designer
Phone: 630.665.5556
Email: yusra@dupagefoundation.org
LinkedIn
As graphic designer for DuPage Foundation, Yusra helps to shape the look and brand of the organization to its many stakeholder audiences. She reports to the director of communications and works with all staff members on their various initiatives and programs to achieve maximum attention. Yusra's hand touches everything the Foundation produces, whether a social media post, the publication of a book or brochure or a website.
Yusra earned a master's degree in graphic design from the Savannah College of Art and Design in 2019 and a certificate in social media marketing in 2020 from DePaul University in Chicago. Prior to that, she worked with a variety of design and advertising agencies in India. Yusra is passionate about volunteerism and community engagement and has worked to support a number of local not-for-profit organizations in the Chicago area since moving here in 2016.
Yusra's background includes designing brands, logos, printed and digital pieces, and social media posts for theaters, anti-hunger campaigns and organizations such as The Council of Islamic Organizations of Greater Chicago (CIOGC), in addition to major consumer brands. She lives in Oak Brook with her husband and travels to India annually to visit with her brother and parents.