Melissa C. Fischer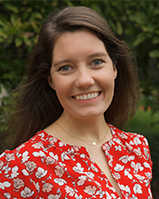 Melissa Fischer | Marketing Manager
Phone: 630.598.5290
Email: melissa@dupagefoundation.org
LinkedIn
As marketing manager, Melissa creates and disseminates the Foundation's messages to its various constituents. Melissa joined the Foundation in May 2018 and immediately became an integral member of the Strategic Planning Committee, which resulted in a robust plan to increase the effectiveness and reach of the Foundation's messaging in order to engage more people and organizations in philanthropy. Melissa shares compelling stories about donors, grantees, professional advisors, and other community partners who have been transformed by their engagement with the Foundation.
Prior to joining the Foundation, Melissa served as public relations manager for the Downers Grove Public Library for 8 years. There she communicated library messages, organized special events, and initiated mutually-beneficial relationships with residents, businesses, organizations, and other government entities.
Melissa holds a Bachelor of Arts from Saint Xavier University where she studied Communications and Writing.
She resides in Lemont with her husband and one-year-old daughter and enjoys reading, vacationing, and doing Random Acts of Kindness.