Matti Oshin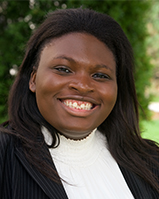 Matti Oshin | Marketing Intern
Email: volunteer@dupagefoundation.org
LinkedIn
As marketing intern, Matti assists the development team by designing advertisements, helping plan the annual benefit, and maintaining accurate communication lists. She also populates arts and culture events for inclusion on artsdupage.org. Matti is enjoying this internship as it offers a little bit of everything she hopes to do in her career, her favorite so far being ad content design. Matti joined the Foundation in January of 2019 and plans to continue building her portfolio while here.
Matti is a senior at Benedictine University studying Communication Arts. After graduating in 2020, she hopes to obtain a copywriter position in advertising to further her career goal of creative director at an advertising firm.
Matti lives in Addison with her mother and enjoys DIY crafts, listening to music, and cooking.