Ginger Wheeler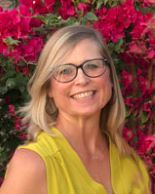 Ginger Wheeler | Director of Communications
Phone: 630.598.5290
Email: ginger@dupagefoundation.org
As Director of Communications, Ginger seeks to position DuPage Foundation as the leading philanthropic organization in DuPage County based on a robust and thorough strategic plan approved by the Board of Trustees and guided by its very experienced and engaged Marketing Committee. By tapping into myriad stories of the volunteers who guide the organization, the not-for-profit grantees who serve the people of DuPage County and the residents who benefit from the work of DuPage Foundation, as well as the philanthropists who generously support the Foundation, the goal is to paint a picture of a community that comes together for good.
Ginger has an extensive background with more than twenty years in marketing communications having held supporting and leadership roles in a variety of non-profit and for profit organizations. Ginger's career includes several years with a Chicago-based foundation and trade association where she served as director of marketing communications. Prior to that she founded a marketing company where she provided communications services for organizations ranging from established Fortune 100 companies to start up non-profits. Most recently, Ginger has worked with College of DuPage and DuPage County to help start-up businesses grow and prosper in the region. She began working with DuPage Foundation in June 2020.
Ginger holds a bachelor's degree in advertising from the University of Illinois at Urbana-Champaign. She has resided in Glen Ellyn since 1987. In addition to her family and yoga, Ginger's biggest passion is the development of the East Branch DuPage River Trail which has been planned to enhance DuPage County's already fantastic hike and bike trail network by adding thirty more miles of pathway in the central part of the County.