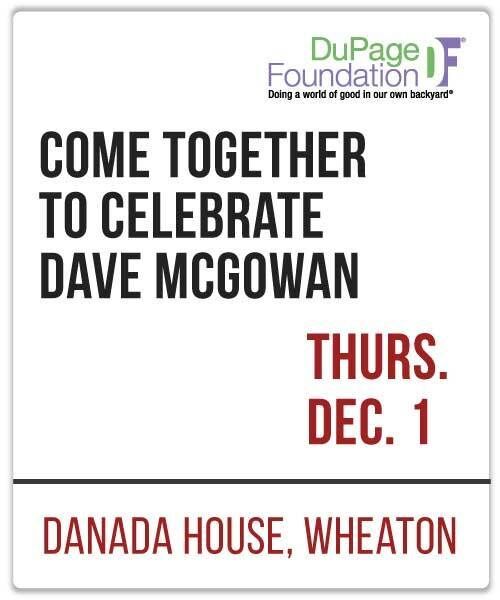 After nearly 25 years of working Eight Days a Week as DuPage Foundation's chief staff officer, Dave McGowan is retiring!
Join DuPage Foundation Board, staff and other friends as we celebrate Dave's incredible career of philanthropy and community impact.
Thursday, December 1, 5:00 – 9:00 p.m.
Danada House
3S501 Naperville Rd. | Wheaton, IL
Complimentary Valet Parking Available
Taking it back to the 1960s, the evening's festivities will include a special viewing of the 4EVER4 Exhibit curated by Republic Bank and a performance by The Beatles tribute band, American English.
5:00 – 6:30 p.m. | Cocktails and Hors d'Oeuvres
6:30 – 6:50 p.m. | Program
7:00 – 9:00 p.m. | American English Performance
All Evening | 4EVER4 Exhibit
Revolution
Learn more about Dave's achievements and future plans in the related link below.
With Love from Me to You
Dave and his wife, Mary, have named the Dave and Mary McGowan Fund of DuPage Foundation as a beneficiary of their estate for their children and their families to recommend grants benefitting DuPage organizations. Anyone wishing to contribute to the Fund in honor of Dave's service to the community can do so in the related link below.
With a Little Help from Our Friends
We are grateful to Republic Bank for its lead sponsorship and for providing the 4EVER4 exhibit as well as to Foundation friends Al and Patti Gustafson, Janet Hodge, Laurie McMahon and My Chef Catering for their generous underwriting of this event.
Please contact Kait Balsewicz, assistant director of donor services, at kait@dupagefoundation.org or 630.598.5292, with questions or for more information.