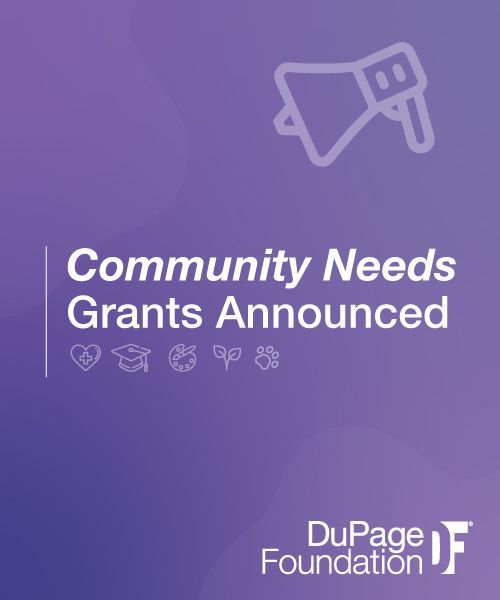 DuPage Foundation is pleased to award $432,193 in grants to 31 DuPage County not-for-profit organizations working in the areas of education, arts & culture, the environment, and animal welfare as part of the Foundation's fall, 2021, Community Needs Grant Program (Community Needs). Grantees were notified today and will receive the funds in early December.

Applications for DuPage Foundation's Community Needs Grant Program are accepted twice per year and are reviewed by the Foundation's volunteer Grant Committee. Thanks to additional donations from DuPage Foundation's donors and donor-advisors, the Foundation was able to grant $179,393 above its regular Community Needs grant budget this cycle.

"We are proud to deploy these much needed grants to the not-for-profit organizations that work tirelessly to serve our community, especially as the lingering effects of the pandemic have forced many to reimagine and rebuild their operations and programs," said Barb Szczepaniak, DuPage Foundation vice president for programs. "We are grateful to our donors for their generosity and desire to expand funding to support these organizations."

Organizations applying for Community Needs grants fell into one of the following categories:
Education: Primarily supports pathways to self-sufficiency including financial, health and language/math literacy and/or the development of leadership skills.
 
Arts & Culture: Primarily supports programs that offer broad access, outreach and/or unique opportunities, (including creative ways to stay relevant during the COVID-19 crisis) to enrich arts and cultural experiences in DuPage.
 
Environment: Supports environmental education; programs that promote conservation and restoration of natural areas, habitats, and green spaces; efforts to reduce pollution and waste; and programs that protect wildlife and endangered species.
 
Animal Welfare: Supports programs that promote the well-being of domestic animals.
The following organizations were selected to receive funding through DuPage Foundation's fall Community Needs grant cycle:

Total Education Grants (16): $248,693
Alive Center: $15,000
Career & Networking Center: $12,500
Child's Voice: $2,500
CREO DuPage: $10,000
DuPage Children's Museum: $18,000
DuPage Federation on Human Services Reform: $20,000
Exodus World Service: $15,000
Giant Steps: $15,000
Glen Ellyn Children's Resource Center: $25,000
H.O.M.E. DuPage, Inc.: $25,000
KidsMatter: $25,000
Literacy DuPage: $20,000
Resilient, NFP: $15,000
The Community House: $15,000
Turning Pointe Autism Foundation: $7,693
Your Children's Bookshelf: $8,000
Total Arts & Culture Grants (9): $109,500
b.unity: $12,500
BrightSide Theatre: $20,000
Buffalo Theatre Ensemble: $20,000
DuPage County Historical Museum Foundation: $2,500
DuPage Symphony Orchestra: $15,000
Elmhurst Art Museum: $20,000
Elmhurst Symphony Orchestra: $2,500
Glen Ellyn-Wheaton Chorale: $3,000
Immigrant Solidarity DuPage: $14,000
Total Environment Grants (3): $45,000
Morton Arboretum: $15,000
SCARCE: $25,000
Three Fires Council, Boy Scouts of America: $5,000
Total Animal Welfare Grants (3): $29,000
Feral Fixers: $7,000
Fetching Tails Foundation: $12,000
West Suburban Humane Society: $10,000
 
TOTAL COMMUNITY NEEDS GRANT FUNDING AWARDED: $432,193

See project descriptions for each of the grantees here.

The spring cycle of Community Needs will award grants to organizations working in health & human services with applications due on March 4, 2022. For more information, please visit dupagefoundation.org/grants/community-needs.html.