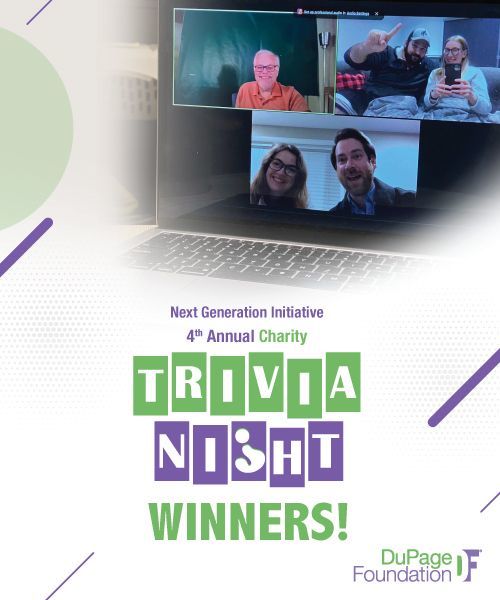 Photo Caption: NGI Charity Trivia Winners Jared Bogan, Cynthia Hyett, Sam Nelson, and Nathan and Paige Ronchetti gathered via Zoom.
DuPage Foundation's Next Generation Initiative (NGI) helps Naperville residents Nathan and Paige Ronchetti, fulfill a passion for lifting up their local community by providing them with opportunities to connect, learn, and give back. Members of NGI since 2019, Nathan and Paige have learned first-hand about the many ways local not-for-profits large and small are doing a world of good in our own backyard.®
"DuPage County has such diverse needs. Through NGI, we've been exposed to so many organizations helping our neighbors in need," said Nathan.
At NGI's fourth annual – and first virtual – Charity Trivia Night on February 24, the Ronchettis put together a team to play for Little Friends, Inc., a local not-for-profit that empowers people of all ages experiencing autism, intellectual and emotional disabilities and their families to live, learn, work and thrive in their communities.
Playing against 28 other teams, the Ronchettis' team, Team Jared + the Cleveland Spiders, rose to the top. They clinched the win and the honor of recommending a $1,500 grant to their charity of choice, Little Friends. The event also succeeded in netting more than $6,000 for the Foundation's NGI Fund to help build its endowment and support its grants and activities throughout the year.
Save the Date for NGI's Spring Social on April 22, with featured charity, Child's Voice.
Partner with us as a 2021 member or sponsor to connect, learn, and give back alongside other community leaders and philanthropists. For more information visit dupagefoundation.org/NGI or contact Kait Balsewicz, CFRE, development officer at 630.598.5292 or kait@dupagefoundation.org.