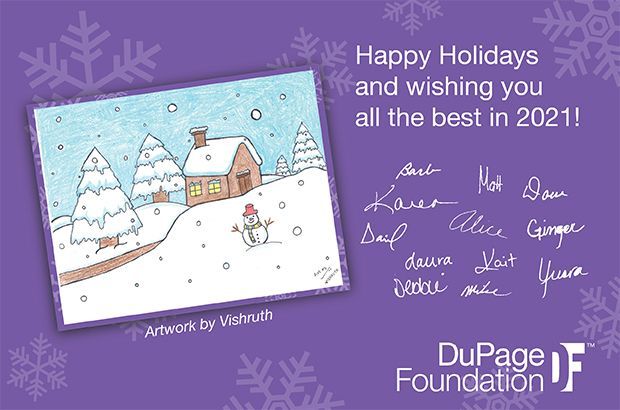 For the past two years, people have seen the smiling, small but mighty, DuPage Foundation staff on the cover of the annual Holiday Card. In 2020, with COVID forcing us to remain socially distanced, an in-person photo was not possible.
So we asked some of our grantees if they could help with original artwork for our annual card. Glen Ellyn Children's Resource Center (GECRC) answered the call and the image you see is from a middle-schooler named Vishruth.
We are thrilled to highlight how this child has been able to enjoy the after-school academic and social support—and have the opportunity to share the artwork with us—that has been so important for so many students this year because GECRC was able to open a new program at Glen Crest Middle School in Glen Ellyn, Illinois, this fall, even during the COVID crisis. 
Leah Harding, who helped DuPage Foundation access Vishruth's artwork, said, "We certainly couldn't have reached our goal to expand our programming, especially during the COVID pandemic, without the generous support of DuPage Foundation."
Some additional information from GECRC's website and shared with DuPage Foundation indicates: 
"GECRC and Community Consolidated School District 89 (D89) have partnered to open a new GECRC site in D89. Objectives are to enroll 40 low-income ELL (English Language Learner) middle school students, who are currently deemed at academic risk. Through participation in the GECRC after-school tutoring and mentorship program, students will improve their academic skills, while finding the social and emotional support needed for academic readiness and success."
We are so happy to support GECRC in their fantastic work, thanks to our many, hundreds of supporters, volunteers, donors and donor-advised fund holders. Thank you to DuPage Foundation family and have a wonderful holiday season, knowing your involvement with DuPage Foundation means you are doing a world of good in our own backyard.™