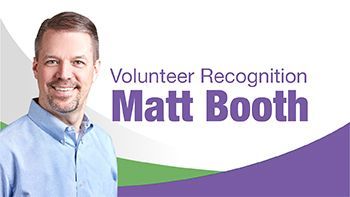 DuPage Foundation's longest-tenured volunteer, Matt Booth, is retiring this month from his role as partner at PwC after nearly 30 years where he was recognized for his expertise in both internal and external audit. His technical background includes accounting, process analysis, auditing and finance.

Matt, a long-time Burr Ridge resident, came to the Foundation through its then Finance Committee. He was working on an audit for Nalco Chemical (now part of Ecolab) in Naperville where he was recruited by Foundation Trustee, Finance Committee chair and Nalco SVP Dave Bertran, as well as Committee member and Nalco director of treasury operations Terry Taylor who, with his wife, Maureen Sullivan Taylor, would later establish a donor-advised fund at DuPage Foundation.

That was in August of 1998 and he has remained active on various committees since then, making him the longest-running volunteer leader in the nearly 35-year history of the Foundation. Matt was a member of the Finance Committee until it split into the Audit, Financial Operations and Investment committees in 2005. He then served as chair of the Audit Committee from 2005 – 2008. He has been on the Financial Operations Committee since 2009.
Matt has also served on the board of the Hinsdale Humane Society, a DuPage Foundation grantee, including as its chair at the time that the Society bought, built out and moved into its new building, the site of another Foundation grantee, the former Robert Crown Center (now Candor Health Education) in Hinsdale.

"Matt's commitment and loyalty to the Foundation over all these years is commendable but it's his knowledge, intuition and deep understanding of the Foundation and its operations that make him such a valued committee member. Plus, he is a prince of a guy and we all really enjoy working with him," said Foundation President & CEO Dave McGowan.

Matt graduated with a degree in business from the University of Iowa and got his MBA from the University of Chicago. He is a CPA and recently began the process of becoming a certified executive coach from the prestigious Hudson Institute. He plans to become certified in late 2021 and hopes to utilize that skill as well as find a CFO position in an area company.
If you have worked with Matt here over the years and would like to congratulate him on his "retirement," here you go: mbooth002@gmail.com.