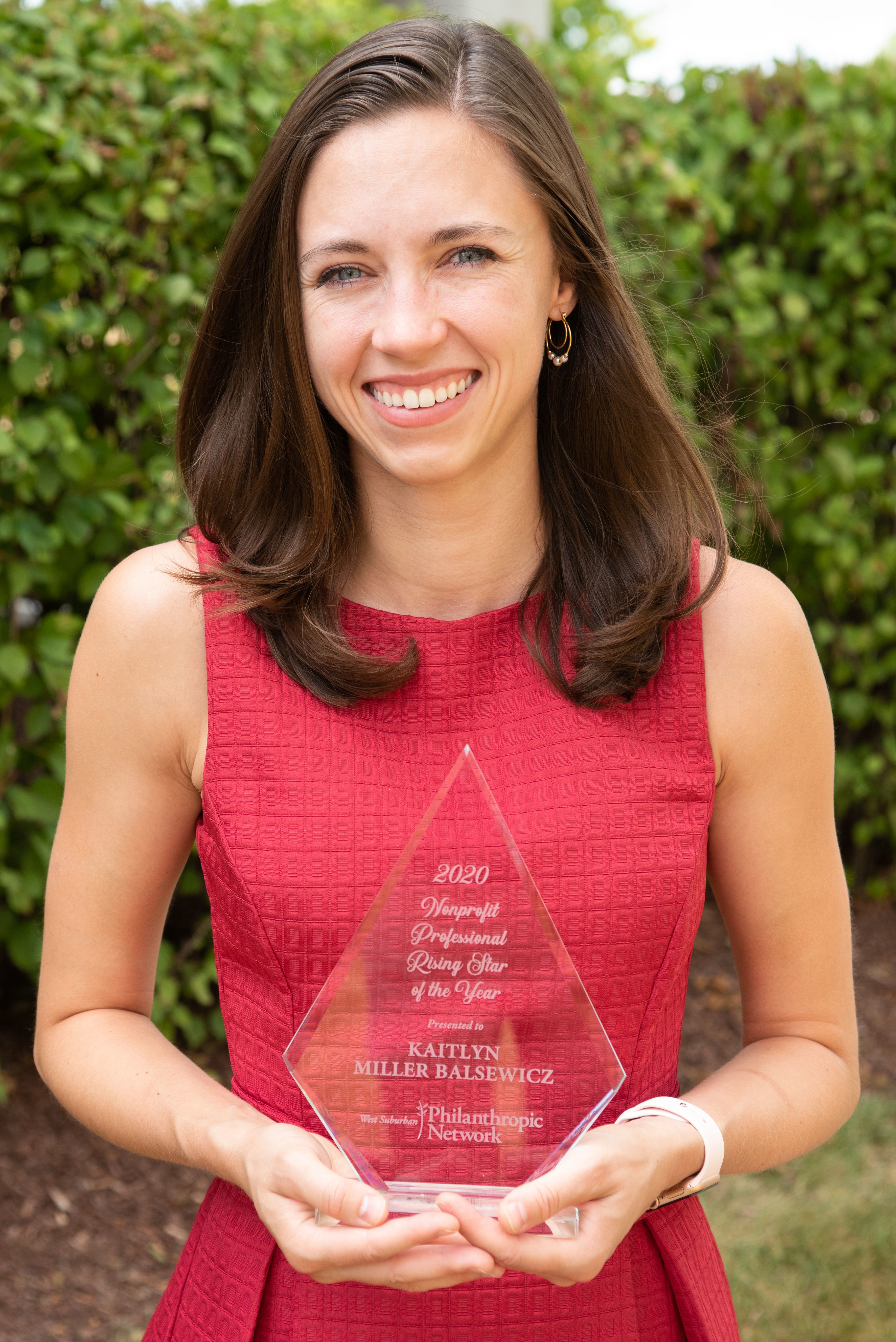 DuPage Foundation is celebrating along with family and friends of Kaitlyn Miller Balsewicz, CFRE, of Winfield, on her being named the Nonprofit Professional Rising Star of the Year by the West Suburban Philanthropic Network (WSPN). The awards luncheon, which normally attracts hundreds of participants for an afternoon of recognition for area philanthropists and charities who have achieved success during the past year, went digital in 2020 with a virtual celebration broadcast the afternoon of Thursday, August 27.
Balsewicz was nominated by DuPage Foundation VP for Advancement Michael Sitrick, JD CFRE. Sitrick praised Balsewicz saying, "At just 27, Kait has already distinguished herself as an exceptional community leader, development professional, and champion for philanthropy."
"Kait joined the Foundation in 2018 and has proven herself invaluable," Sitrick continued. "As our development officer, she serves as the lead staff person for our Next Generation Initiative, runs point on our Annual Benefit and other special events, and assists in the solicitation of major and planned gifts—all while providing exceptional stewardship to our donors and other constituents. She has supported the Foundation in securing millions of dollars annually for our endowment and various funds while crafting proposals for multi-million dollar requests and personally closing five- and six-figure gifts. Foundation constituents frequently praise Kait's interpersonal skills and the warm personal service she provides."
Balsewicz's demonstrated success in the development field positioned her to secure accreditation as a Certified Fundraising Executive (CFRE) in May 2019—a commendable achievement for any development officer, but especially for someone so early in her career.
"Receiving this recognition has been so gratifying and humbling," said Balsewicz. "I'm truly grateful to Mike for nominating me and to my colleagues at DuPage Foundation for their collaboration and mentorship. Being in a career where you work hard to make the world a better place for those with the fewest resources is rewarding in and of itself, and working at DuPage Foundation is truly the best job in the world, so this recognition is like icing on the cake."