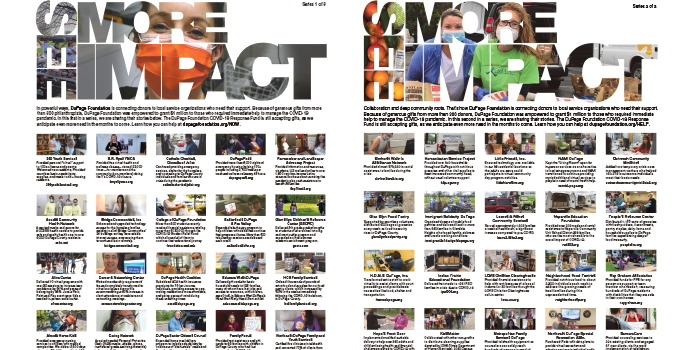 Collaboration. That's how the not-for-profit sector, philanthropists, donors, volunteers and government resources came together to help alleviate the effects of the COVID-19 pandemic in DuPage County, Illinois, during April and May, 2020.
This collaboration enabled DuPage Foundation to pivot, raise the funds and be the conduit for $1 million in grants awarded to 60 not-for-profits who were on the front lines in offering aid and resources to the people hurting the most.
To help grantees tell their rewarding stories and thank donors who stepped up, DuPage Foundation recently launched a series of three full page ads in the region's local newspaper The Daily Herald. 
Check out the ads:
Ad 1 communicates the power of connecting donors to not-for-profits
Ad 2 references collaboration as a means to achieve many goals
Ad 3 features donor Dr. Sunil Chand, former president of College of DuPage, on why he supports DuPage Foundation
And, while $1 million in help may seem like a lot, there is much more to do. As an example, grantee Tri-Town YMCA in Lombard, Illinois, provided 2,235 days of emergency child care to essential workers and distributed an estimated 32,000 free meals to children during the pandemic. 
See the entire list of grantees.
The need for more funding for not-for-profits conducting vital work in our community is great.
More grants should be awarded in the near future as donations increase. Watch for announcements at dupagefoundation.org and on our social media pages.