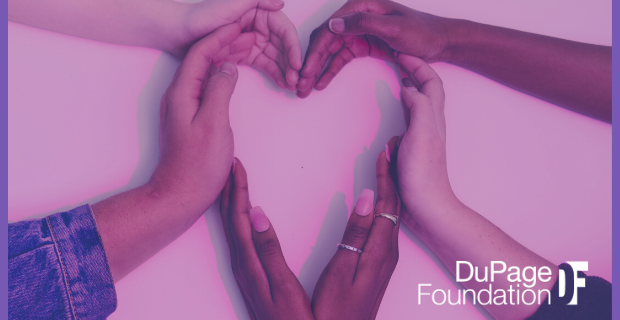 The DuPage Foundation is pleased to be able to continue its annual Community Needs grant program with more than $500,000 awarded to 31 DuPage County health and human services agencies.
"Community Needs grants support not-for-profits whose programs are improving the quality of life for DuPage County residents," said Barb Szczepaniak, DuPage Foundation vice president for programs. "We're proud to be providing financial support to so many vital area organizations during this unprecedented time of crisis as they work to help our community's most vulnerable residents."
The following organizations were selected to receive funding totaling $505,483 through the Foundation's spring Community Needs cycle:
360 Youth Services (Funded by the Betty M. Bock Fund): $20,000
Bridge Communities, Inc. (Funded by the Betty M. Bock Fund): $20,000
Care for Cars (Partially funded by Betty W. Smykal and the Effort Counts Twice Fund): $12,000
CASA of DuPage County, Inc: $20,000
Chicago Dental Society Foundation: $20,000
Donka, Inc: $15,000
DuPage Health Coalition: $20,000
DuPagePads: $20,000
DuPage Sponsors: $10,000
Easter Seals DuPage & Fox Valley: $20,000
Evangelical Child & Family Agency: $10,000
Friends for Therapeutic Equine Activities: $15,000
Healthcare Alternative Systems, Inc: $10,000
Little Friends, Inc: $10,000
Mercy Housing Lakefront (Funded by the Edward & Minnie Ceragioli Fund): $15,000
Metropolitan Family Services DuPage : $20,000
NAMI DuPage: $20,000
Neighborhood Food Pantries (Funded by the Snodgrass Family Fund): $20,000
Northeast DuPage Family and Youth Services: $20,000
Northern Illinois Food Bank (Partially funded by the Morrissey Family Fund): $20,000
Outreach Community Ministries: $20,000
People's Resource Center (Funded by the Snodgrass Family Fund): $9,983
Ray Graham Association: $20,000
Roselle UMC Community Food Pantry: $20,000
SamaraCare : $20,000
Sharing Connections (Partially funded by the Kenneth Holland Memorial Fund): $20,000
Special Kids Day (Funded by the Andi Stelzner Fund): $6,000
Syrian Community Network: $10,000
Teen Parent Connection (Funded by the Betty M. Bock Fund): $20,000
Wayne/Winfield Area Youth/Family Service (Funded by the Betty M. Bock Fund) : $2,500
World Relief DuPage: $20,000
See project descriptions for each of the grantees here.
"This grant is an integral part of our planning for services in the coming year and is needed more than ever before due to the pandemic," said John Tartaglione, president of Care for Cars, regarding the Community Needs grant his organization received. "Our clients are often those frontline essential workers who are cited so often in the news and are our unsung heroes. This funding will enable them to have one less worry in their lives because they'll be able to continue getting to their jobs in healthcare, grocery stores, and other essential services."
As DuPage County's leader in connecting donors with causes they are passionate about, the DuPage Foundation engages individual donors and donor-advised fund representatives to bolster its annual Community Needs budget. "I'm inspired by the generosity of our donors," said Szczepaniak. "During a time when the needs are huge and the requests they're receiving are plentiful, donors stepped up and supplemented our Community Needs budget with an additional $134,483 in support."
In addition to this most recent spring grant cycle, last December the Foundation awarded more than $300,000 to 31 organizations working in the areas of Education, Arts & Culture, the Environment, and Animal Welfare as part of its fall Community Needs grant cycle. It also recently deployed $500,000 in grants to support 36 DuPage County not-for-profits providing food and emergency assistance, housing, mental health services, access to healthcare, and other support for DuPage residents affected by the COVID-19 pandemic. See all COVID-19 grantees and learn more about our COVID-19 Response Fund here.