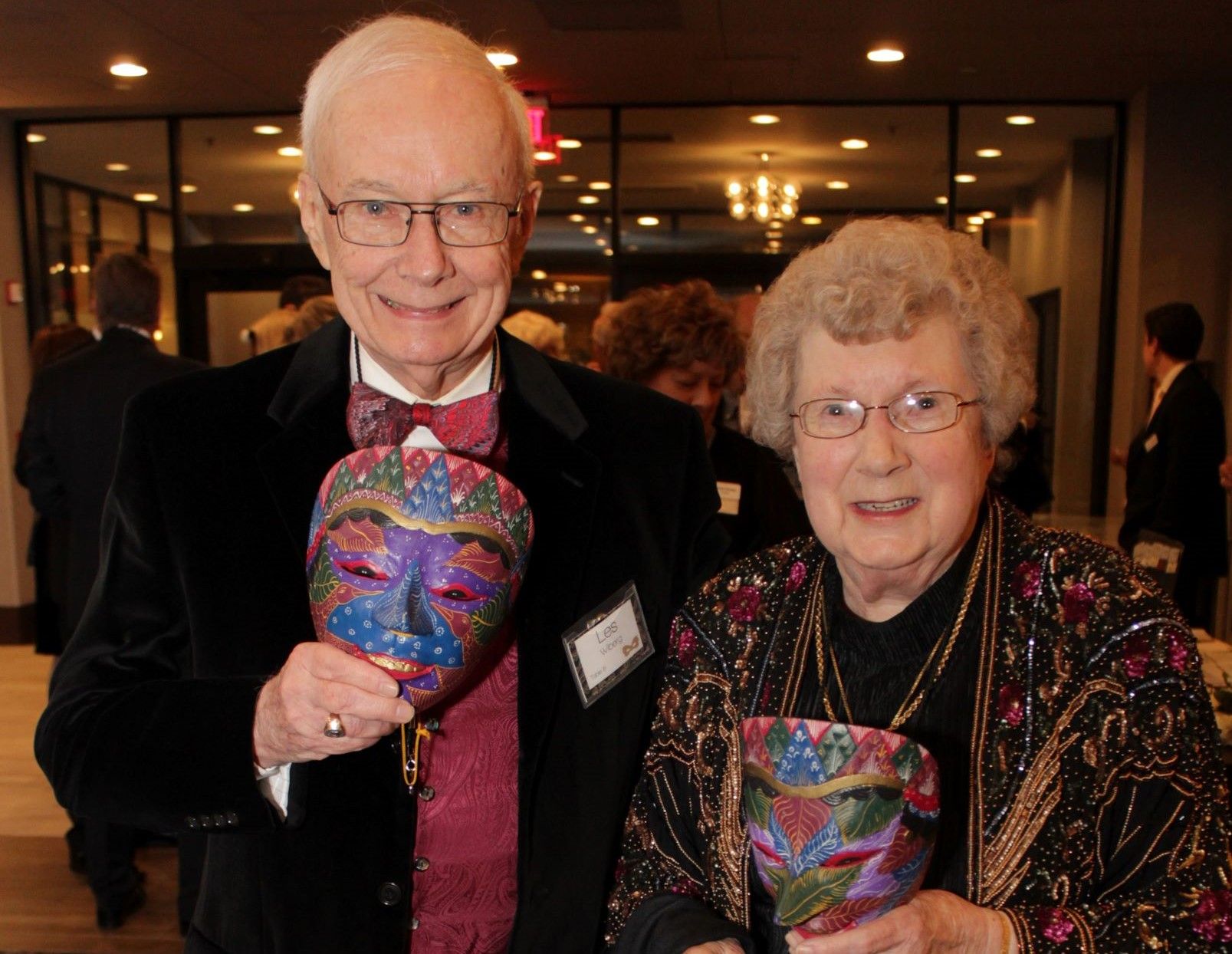 Photo caption: Les and Mary Wiberg attended the DuPage Foundation Masquerade in November 2019, wearing masks from their travels to Java in Indonesia.
The DuPage Foundation is thrilled to announce a $100,000 matching gift challenge for its arts initiative, Arts DuPage. The first $100,000 in aggregate charitable contributions received by the Foundation between now and December 31, 2020, for its Arts DuPage Endowment Fund, will be matched dollar for dollar. The challenge is being funded through a generous commitment from Wheaton residents Leslie and Mary Wiberg.
As part of its 2020-2024 strategic plan, the Foundation aims to build a $4 million endowment to secure Arts DuPage's long-term sustainability. The endowed fund will generate annual income to support Arts DuPage's operations and role as our community's champion for the arts in perpetuity.
"Since Arts DuPage's launch in 2016, it has made great strides in creating a hub for the arts throughout our community," said Barb Szczepaniak, DuPage Foundation vice president for programs. "With financial support for Arts DuPage, the Foundation plans to further strengthen arts advocacy efforts here in DuPage and encourage additional support for local arts organizations and our own grantmaking capacity for the arts through our Community Needs grant program."
The Wibergs' generous history of community philanthropy extends across many areas of need, including education and children's health services. However, supporting the arts—particularly DuPage's broad cultural landscape—has become their greatest passion. "Public arts opportunities improve the quality of life for all who experience them," said Mary. "Les and I cherish our early exposure to the arts. We hope to provide chances for area young people to become interested in the arts and for the aging population to have accessible opportunities to enjoy them, too."
The Wibergs' offer to provide these generous matching funds comes on the heels of a previous gift of $150,000 that they made at the end of 2019 to the Arts DuPage Endowment Fund. "We hope others will become more aware of the long-range potential and economic impact that the arts have on a community," said Les. "Mary and I have witnessed quality art performances throughout our communities, and we'd like to see these arts-related activities better supported by the public, in the DuPage County area and beyond."
Because there are so many critical needs in DuPage County, arts and cultural organizations often find it challenging to secure charitable support. Champions like the Wibergs provide a reminder about the importance of investing in the arts to ensure that DuPage County remains a vibrant and thriving community with activities that enrich the lives of our residents and generate vital economic support. Gifts of cash, securities, retirement account assets, real estate, life insurance, closely-held business interests, and other appreciated assets can be donated to the Foundation in support of Arts DuPage and its other programs and activities.
Visit dupagefoundation.org to give online or contact the Foundation at 630.665.5556 or mike@dupagefoundation.org for more information.
About Arts DuPage
Arts DuPage supports, promotes, and advocates for the arts in DuPage County. An initiative of the DuPage Foundation, Arts DuPage stimulates engagement and investment in the county's vast cultural landscape through artsdupage.org, its comprehensive website for all things art, providing resources for more than 55,000 site visitors in 2019 alone. Additionally, Arts DuPage has connected with more than 16,000 people on social media, linked local artists to jobs, identified venues for organizations looking for performance space, helped launch new arts programs, hosted educational workshops to build the capacity of arts-focused not-for-profits, and coordinated two month-long celebrations of the arts during Arts DuPage Month in October.
About the DuPage Foundation
The DuPage Foundation is DuPage County's philanthropic leader. Established in 1986 to raise the quality of life throughout DuPage County, the Foundation serves our community by helping area residents and organizations realize their unique charitable goals, providing impactful support to our community's not-for-profits, and fostering key partnerships to address critical issues affecting DuPage County.
As a 501(c)(3) public charity, the Foundation receives contributions and bequests from individuals, corporations, organizations and foundations looking to make a difference for our community and the causes about which they are most passionate. Since its inception, the Foundation has grown to more than $95 million in assets and awarded more than $45 million in grants to not-for-profit agencies serving the residents of DuPage County and beyond.
For more information about the Foundation or Arts DuPage, visit dupagefoundation.org. To arrange future media opportunities, contact Melissa Fischer, marketing manager, at 630.598.5290 or melissa@dupagefoundation.org.