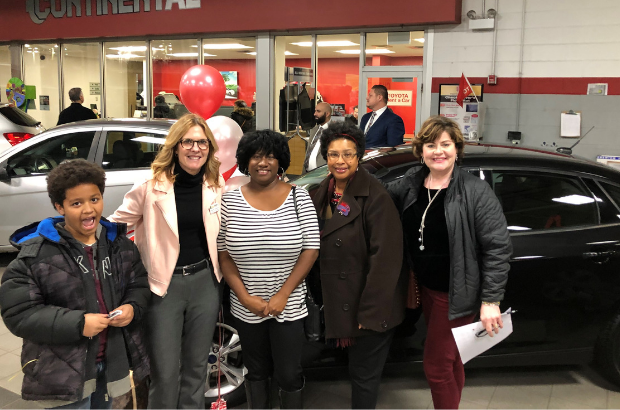 Photo caption: Loaves & Fishes Cares Car Program clients are required to participate in
three H.O.M.E. DuPage FFIT counseling sessions before earning their car.
We know the benefits of being physically fit, but what about financial fitness? Financial literacy is crucial to keeping a household afloat, and for 167,000 low-income DuPage residents, achieving financial stability is an even greater challenge.
The Foundation recognized the magnitude of this issue after convening a roundtable in 2012. "We discussed gaps in services and unaddressed client needs," said Barb Szczepaniak, vice president for programs. "Together we identified financial literacy education, particularly for individuals and families with limited resources, as a critical need that was not being met."
H.O.M.E. DuPage's (HOME) reputation for financial literacy made them a natural fit to deliver this type of programming. With initial funding from a passionate Foundation donor, and ongoing Foundation support since then, HOME created the Financial Fitness Program (FFIT), a series of workshops focused on budgeting, debt management, developing savings, and basic banking coupled with continued, individualized coaching sessions.
Demand for this program continues to grow as the number of DuPage residents facing poverty increases annually. Two years ago, four not-for-profits partnered with HOME to support their clients' financial needs. Today, clients from 22 not-for-profits participate in FFIT. "The beauty of this program is that not-for-profits can save their resources by engaging HOME's financial counselors to provide this service," said Szczepaniak. "Financial literacy has become one of HOME's go-to services."
"We meet clients where they're at, whether it's buying a car, owning their home, or sending a child to college," said Anne O'Dell, executive director of HOME. "We help people fulfill their dreams, whatever their dreams may be."
To learn how the Foundation can help you support impactful local organizations, contact Mike Sitrick, JD, CFRE, at 630.598.5285 or mike@dupagefoundation.org.