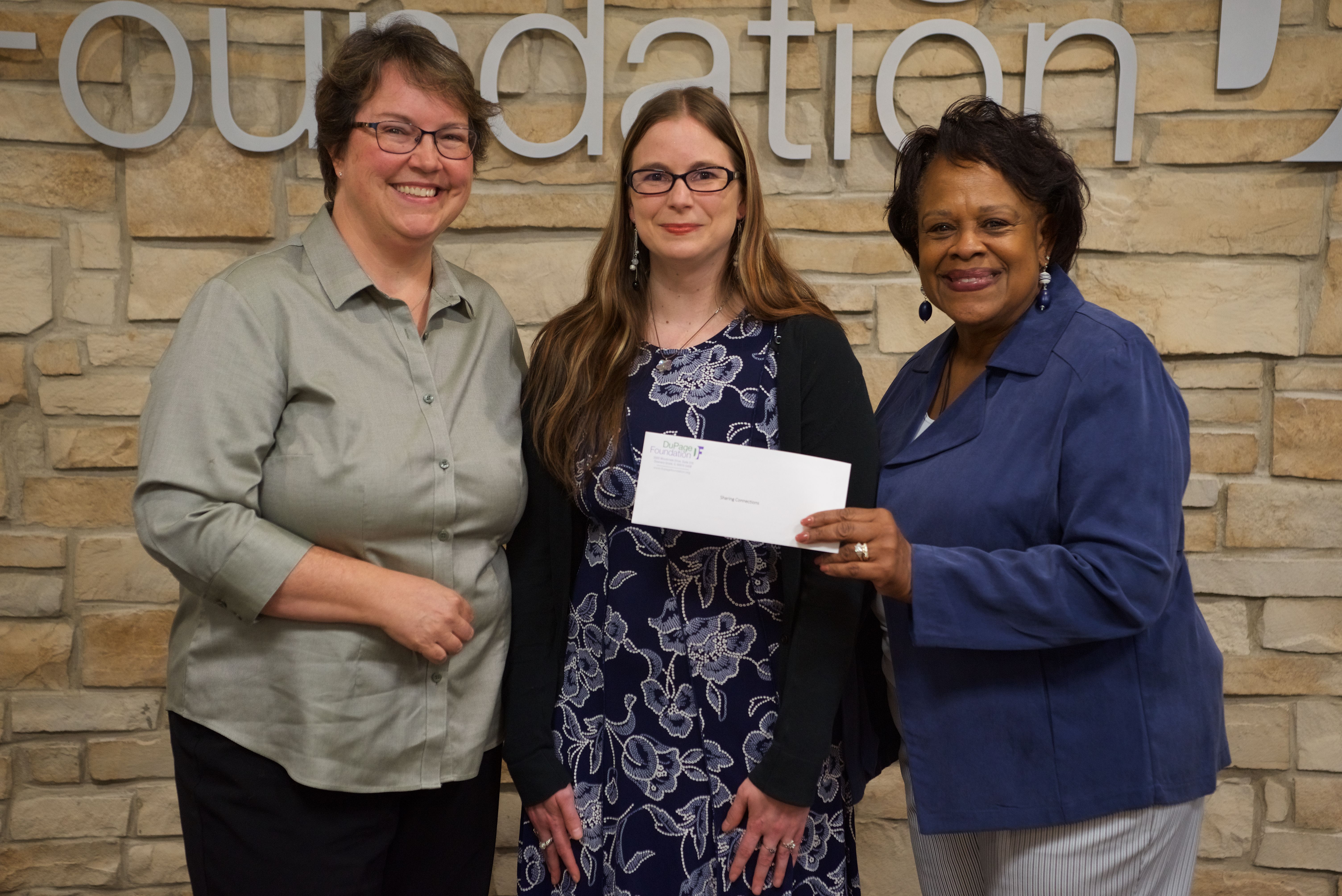 Photo caption: Sharing Connections was awarded a $20,000 grant, presented by Grant Committee member Dianne Engram (right), to support the Good Night's Sleep Program-Beds for At-Risk Children by providing beds to children and cribs to babies who do not have their own.
For nearly 33 years, the Foundation's Community Needs grant program has supported programs and projects that enrich the quality of life for DuPage County residents. That trend continued this past spring with $523,880 awarded to 38 local not-for-profits doing impactful work in the area of Health and Human Services. Grants were distributed and grantees were celebrated at the June 12 Spring Grant Open House. 
"Community Needs is our flagship grant program through which we support the great work of local organizations that are directly helping those in need," said Barb Szczepaniak, Foundation vice president for programs. The grant process also serves as a research and development tool for the Foundation, as we learn about and track the effectiveness of the services offered in various issue areas. "This ultimately helps us connect local donors, who seek our guidance, to the organizations doing work that aligns with their interests and passions," Szczepaniak said. 
As DuPage County's leader in connecting donors with causes they are passionate about, the Foundation engages individual donors to supplement the annual Community Needs budget. This cycle, their support helped boost our grant awards by $153,980.
A 2018 Impact DuPage assessment identified the most pressing issues currently affecting the health of DuPage County as drug abuse, mental health, technology use, affordable housing, healthcare access, and obesity, among others. It was through this needs-based lens that the Grant Committee reviewed applications. Approximately 58% of the grants funded in the spring grant cycle align directly with the top health concerns identified by Impact DuPage. "The Foundation is committed to creating positive change in our community," said Megan Shebik, Grant Committee member. "A data-driven understanding of what the most prevalent issues are helps ensure our funds are supporting impactful community programs."
The following organizations were selected to receive funding through the Foundation's spring Community Needs cycle and recommendations from representatives of Foundation donor-advised funds:
360 Youth Services (Funded by the Betty M. Bock Fund): $15,000
Bridge Communities, Inc. (Funded by the Snodgrass Family Fund): $20,000
Care for Cars (Funded by Betty W. Smykal): $10,000
CASA of DuPage County, Inc. (Partially funded by the McWethy Foundation): $20,000
Catholic Charities, Diocese of Joliet (Partially funded by the Betty M. Bock Fund): $20,000
Chicago Dental Society Foundation: $15,000
Community Adult Day Center (Funded by the Edward & Minnie Ceragioli Fund): $2,880
Donka, Inc.: $7,500
DuPage Federation on Human Services Reform: $20,000
DuPage Health Coalition: $20,000
DuPagePads: $20,000
DuPage Senior Citizens Council: $10,000
DuPage Sponsors: $2,500
Easter Seals DuPage & Fox Valley: $10,000
Elmhurst Walk-in Assistance Network: $10,000
Evangelical Child & Family Agency: $7,500
Friends for Therapeutic Equine Activities: $15,000
HCS Family Services (Funded by the Robert and Laurie McMahon Family Fund): $2,500
Healthcare Alternative Systems, Inc.: $5,000
H.O.M.E. DuPage, Inc. (Funded by Betty W. Smykal): $20,000
Hope's Front Door: $2,000
Loaves & Fishes Community Services: $28,000
Mayslake Village (Funded by the Edward & Minnie Ceragioli Fund): $5,000
Metropolitan Family Services DuPage: $20,000
Neighborhood Food Pantries (Funded by the Snodgrass Family Fund): $20,000
Northeast DuPage Family and Youth Services: $20,000
Northeast DuPage Special Recreation Association: $20,000
Northern Illinois Food Bank: $20,000
Riverwalk Adult Day Services: $10,000
SamaraCare: $20,000
Serenity House Counseling Services, Inc.: $2,500
Sharing Connections (Funded by the Betty M. Bock Fund): $20,000
Special Kids Day (Funded by the Andi Stelzner Fund): $6,000
Teen Parent Connection (Funded by the Betty M. Bock Fund): $20,000
Wayne/Winfield Area Youth/Family Service: $2,500
World Relief DuPage: $15,000
Youth Outlook: $20,000
YWCA Metropolitan Chicago: $20,000
See project descriptions for each of the grantees here.
View pictures from the June 12 Spring Grant Open House.
Total Spring Community Needs Grant Funding Awarded: $523,880
The fall Community Needs cycle awarded $268,275 to organizations working in the areas of Animal Welfare, Arts and Culture, Education, and the Environment. Applications for the Community Needs grant program are accepted twice per year. The next deadline is Friday, September 6, 2019. See more information and apply here. During this past fiscal year, $4.8 million was awarded from the Foundation's more than 300 funds on behalf of our donors and community. 
About the DuPage Foundation
The DuPage Foundation is DuPage County's philanthropic leader. Established in 1986 to raise the quality of life throughout DuPage County, the Foundation serves our community by helping area residents and organizations realize their unique charitable goals, providing impactful support to our community's not-for-profits, and fostering key partnerships to address critical issues affecting DuPage County.
As a 501(c)(3) public charity, the Foundation receives contributions and bequests from individuals, corporations, organizations, and foundations looking to make a difference for our community and the causes about which they are most passionate. Since its inception, the Foundation has grown to more than $95 million in assets and awarded nearly $45 million in grants to not-for-profit agencies serving the residents of DuPage County and beyond.
For more information about the Foundation, visit dupagefoundation.org. To arrange future media opportunities, contact Melissa Fischer, marketing manager, at 630.598.5290, or melissa@dupagefoundation.org.