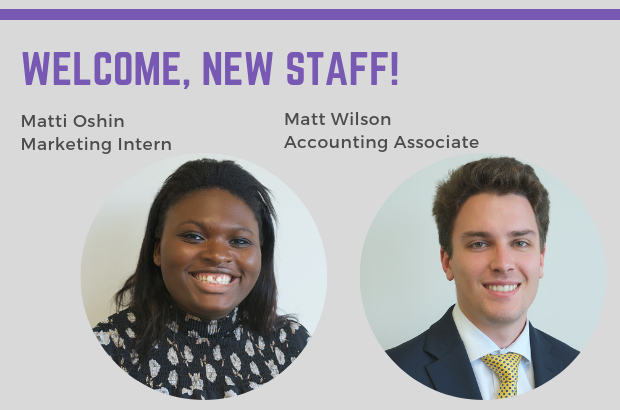 The Foundation is pleased to welcome two new members to our expanding team, Matti Oshin as marketing intern and Matt Wilson as accounting associate. As a growing organization, we will benefit from their professional expertise as well as their commitment to enhancing the quality of life for all in DuPage County.
Matti Oshin
Marketing Intern
Oshin designs advertisements, assists with the annual benefit, and populates arts and culture events for artsdupage.org, ensuring the site offers a variety of dynamic local events. "Matti is eager to learn and happily takes on new tasks," said Melissa Fischer, marketing manager. "She brings a creative perspective to our team, incorporating fresh designs into our current messages." Oshin joined the Foundation in January 2019 and will continue through the fall.
Oshin is studying Communication Arts at Benedictine University. After graduating in 2020, she hopes to obtain an advertising copywriter position to further her career goal of becoming a creative director at an advertising firm. "This internship offers a sampling of everything I want to do in my future career, my favorite being ad design," Matti said. "It's a great opportunity to build my portfolio."
Oshin lives in Addison with her mother and enjoys DIY crafts, listening to music, and cooking.
Matt Wilson
Accounting Associate
Wilson supports the finance department and is responsible for day-to-day accounting functions, including reconciling accounts and preparing financial reports. "This new position is crucial to supporting the continued growth of the Foundation," said David Weisz, vice president for finance. "Matt's attention to detail and commitment to accuracy are vital skills that will contribute to his success in this role." Wilson joined the Foundation in May 2019.
Wilson's previous experience includes a Wintrust internship where he performed bond transactions and processed loans. "I'm excited to learn from an exceptional group of people," Wilson said of his new role. "I'm happy to join the team at an exciting time and look forward to helping the Foundation meet its ambitious goals."
Wilson holds a Bachelor of Science Degree in Finance from Elmhurst College. He lives in Westchester and enjoys spending time with his dog, Lucky. 
Please join us in welcoming Matti and Matt!