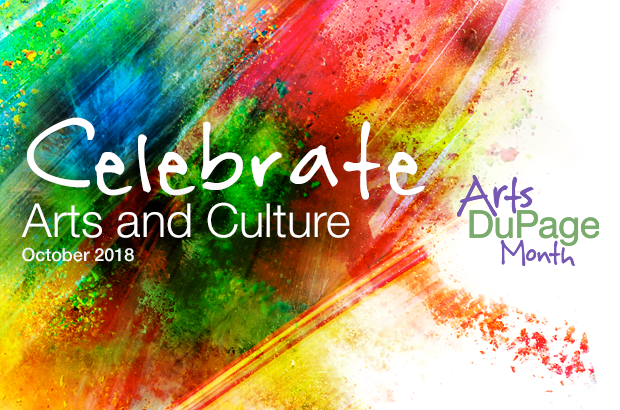 For the last 25 years, October has been celebrated as National Arts & Humanities Month. Founded by Americans for the Arts in 1993, this coast-to-coast recognition of the importance of culture in America brings artists, businesses, and art lovers together and enlivens communities with stimulating
activities that might otherwise go unnoticed.
This year, Arts DuPage is bringing this national focus to DuPage County to showcase the rich artistic landscape that surrounds and inspires us. Hosts of the October experiences will add a special twist to their programs to enhance the artistic encounter—guest speakers, discounted admission, backstage tours, or delicious treats. Attendees are invited to embrace their creative sense of adventure!
Arts DuPage Month would not be possible without support from the local artists, businesses, venues, arts organizations, and community agencies who are hosting and promoting events throughout October. "We believe no matter what your interests are, you'll enjoy something offered during Arts DuPage Month," said Debbie Venezia, Director of Arts DuPage. "Plays, concerts, exhibits, literary events—they're all right here in our backyard!"
Arts DuPage is a year-round initiative of the DuPage Foundation dedicated to promoting engagement and investment in the arts. We feature a comprehensive website listing of area arts and cultural events at artsdupage.org to encourage people to get out and see a show, visit an exhibit, take friends to an art festival, and build on our community's reputation as the place to live, work, and play. We're proud to initiate Arts DuPage Month to connect more residents with a love of the arts during the nationally-recognized month of October. Join us from Elk Grove Village to Naperville as we discover the vibrant arts scene flourishing across DuPage County.
Questions? Contact Debbie Venezia at debbie@dupagefoundation.org or follow us at facebook.com/artsdupage—we'd love to explore the creative possibilities with you!