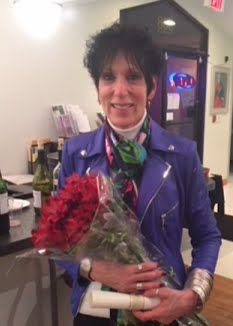 The Naperville Art League's (NAL's) http://www.napervilleartleague.com Fourth Friday gathering was more festive than usual on March 23 when Foundation Director of Arts DuPage Debbie Venezia (the NAL's former executive director) was presented with an honorary lifetime membership. The award, given to individuals who have made outstanding contributions to the NAL, was granted in recognition of Debbie's many accomplishments as a past employee, current active member and present director of the Riverwalk Fine Art Fair, the NAL's signature event.
During her exemplary tenure with the NAL, Debbie significantly increased revenues, secured hundreds of thousands of dollars in grants and sponsorships, and raised the reputation of the Riverwalk Fine Art Fair to one of the best in the country.
"Over the past 57 years of the NAL's existence, only 31 such awards have been bestowed, said Linda VanderKolk, Naperville Art League board president. "It is a pleasure to honor Debbie. She was the NAL's executive director for 15 years, serving with enthusiasm, integrity, a passion for art, and an interest in the well-being of the organization."
Debbie left the NAL in May 2017 to assume the role of director of Arts DuPage, a county-wide arts council created to promote investment and engagement in the arts.
"Debbie has earned an outstanding reputation for her passionate support and promotion of DuPage County's cultural environment for nearly 30 years," said Foundation vice president for programs Barb Szczepaniak. "With her dynamic personality, she has fostered significant connections between artists and the public to stimulate a deeper understanding and appreciation of the arts in our region."
The NAL is a not-for-profit organization sponsored by its membership, a dedicated group of more than 250 local artists and art enthusiasts whose innovation and creativity drive the League's continued growth. Since its inception, NAL has provided an atmosphere of encouragement, education, and support for local emerging and established artists as well as for art appreciators. NAL's location, The Naperville Fine Art Center and Gallery, is a place for artists to gather, exhibit their original work, and share their talents with the community. Open to the public, the Gallery features monthly displays of members' original artwork as well as occasional special exhibits. In addition, NAL founded the Riverwalk Fine Art Fair in 1985, a show that has earned the reputation of being one of the top outdoor art fairs in the country.