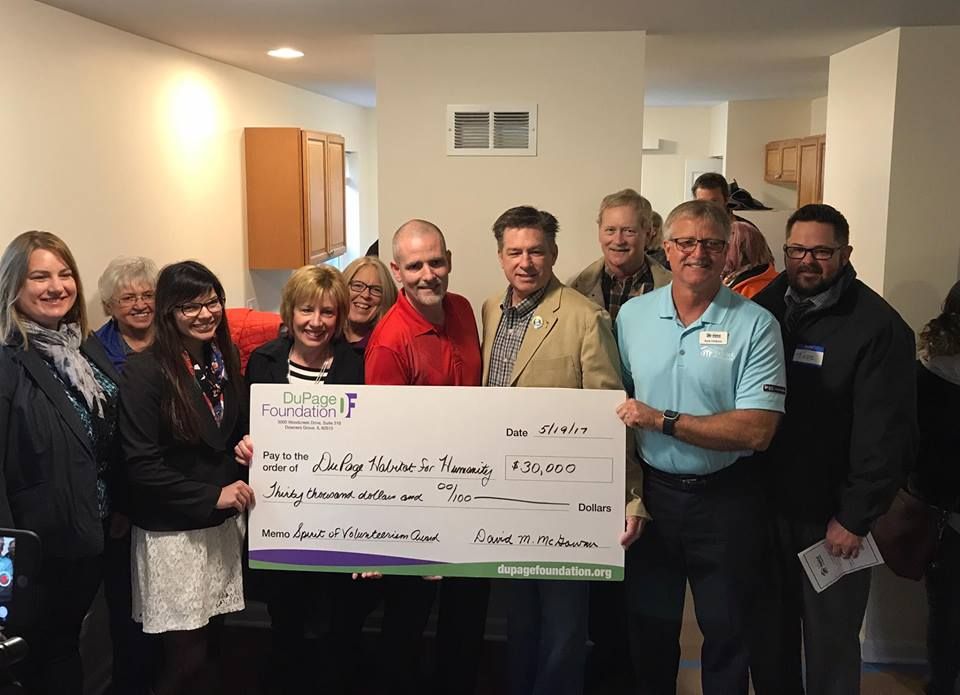 DOWNERS GROVE, Illinois—Congratulations to Glen Ellyn Children's Resource Center, Access DuPage and DuPage Habitat for Humanity on their receipt of the DuPage Foundation's 2017 Spirit of Volunteerism Awards. The Foundation is cognizant of the challenges that DuPage County not-for-profits have experienced in recent years. In response to unstable financial times, these organizations have become more creative managing and utilizing their limited budgetary and human resources. Oftentimes, volunteers play a critical role to ease the burden of maintaining quality services for constituents. In 2011, thanks to the generosity of an anonymous donor-advisor, the DuPage Foundation launched the Spirit of Volunteerism awards with the intent of biennially honoring organizations that exemplify successful volunteer engagement. In May, with the distribution of these grants, the Foundation surpassed $30 million in cumulative grantmaking.
The Foundation received 49 grant applications which were sorted into three categories based upon the size of the organization's annual operating budget. A committee of local volunteers spent numerous hours reviewing each application to evaluate and select organizations that demonstrated that volunteers are an integral part of their organization and that their volunteers rise beyond the traditional call of duty.
"We are ecstatic to be recognizing these organizations for their vibrant volunteer programs," said Barb Szczepaniak, Foundation vice president of programs. "This program wouldn't be possible without the generosity of a wonderful Foundation donor-advisor who values the importance and impact of volunteer services."
Glen Ellyn Children's Resource Center (GECRC), recipient of a $10,000 grant, empowers children to realize their full academic and personal potential through an intensive five-day-a-week, after-school tutoring and mentoring program. The committee was impressed by how GECRC's more than 300 volunteers—professionals with specialized knowledge—provide one-on-one tutoring and small group learning experiences for at-risk children. In addition, GECRC volunteers led the campaign to raise $200,000 to open the Churchill Elementary School site. GECRC's grant will be used to increase its volunteer outreach coordinator's hours to market, cultivate and train more volunteers as well as support background checks.
Access DuPage, recipient of a $20,000 grant, is a collaborative effort by thousands of individuals and hundreds of organizations in DuPage County to provide access to medical services to the county's low-income, medically uninsured residents. The committee noted the significant number of professionals who are volunteering their time to Access DuPage through primary care, specialty care and clinics. Specific examples cited in its application were mass eye exams to screen diabetic patients, and how services were offered for a patient experiencing language barrier issues.
DuPage Habitat for Humanity, recipient of a $30,000 grant, builds and sells homes to working families using the funds and volunteers provided by corporate, faith-based and individual sponsors. The committee noted that more than 5,000 volunteers donated time in different capacities during the last fiscal year. In addition, the organization is developing an incentive program to engage volunteers during the winter months.
About the DuPage Foundation
The DuPage Foundation is DuPage County's philanthropic leader. Established in 1986 to raise the quality of life throughout DuPage County, the Foundation serves our community by helping area residents and organizations realize their unique charitable goals, providing impactful support to our community's not-for-profits, and fostering key partnerships to address critical issues affecting DuPage County.
As a 501(c)(3) public charity, the Foundation receives contributions and bequests from individuals, corporations, organizations and foundations looking to make a difference for our community and the causes about which they are most passionate. Since its inception, the Foundation has grown to more than $70 million in assets and awarded more than $30 million in grants to not-for-profit agencies serving the residents of DuPage County and beyond.
For more information about the Foundation, visit www.dupagefoundation.org. To arrange future media opportunities, please contact William Pearch, marketing manager, at 630.598.5290, or bill@dupagefoundation.org.