Rachel S. Welling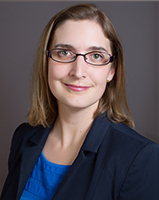 Rachel S. Welling | Development Associate
Phone: 630.598.5292
Email: rachel@dupagefoundation.org
LinkedIn
As the Foundation's development associate, Rachel assists with all aspects of donor relations and marketing and communications efforts.
A native of Michigan, she previously worked at several not-for-profits in and around Ann Arbor, Michigan, most recently as senior administrative assistant at the National Kidney Foundation of Michigan. She also held the position of program director at Neithercut Philanthropy Advisors, a consulting firm in Detroit which specializes in helping high-net-worth families and foundations reach their philanthropic goals.
Welling holds a Master of Arts in Ethnomusicology from Michigan State University and a Bachelor of Arts in Sociology and Music Performance from Albion College. She is now a resident of Downers Grove.