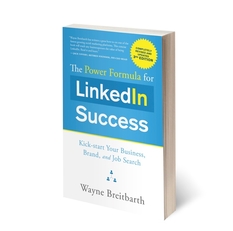 DOWNERS GROVE, Illinois— Business expert Wayne Breitbarth, speaker, consultant, and author of the best-selling book The Power Formula for LinkedIn Success (now in its third edition), will present "Five Best Ways to Use LinkedIn to Grow Your Art Business," a comprehensive strategy for using LinkedIn, the world's most popular professional networking site, to achieve business success. Wayne will share his tactics for improving user profiles, targeting search efforts, and making qualified connections in order to develop an arts business and establish a professional brand.
"Wayne is not only a great speaker, he also has extreme knowledge of his subject matter. The audience is riveted to their seats while absorbing the relevant information in a fun and easily understood format," said Greg Nemchick, President and CEO at WorkPlace Furnishings, Inc. Through his dynamic presentations, Wayne has shared his expertise with more than 80,000 business professionals worldwide and has been featured in Forbes, Inc., Wired, and American Express Open Forum and seen on NBC and Fox Business.
Sponsored by Arts DuPage, "Five Best Ways to Use LinkedIn to Grow Your Art Business" will take place on March 20, 2018, from 5:00 p.m. to 7:00 p.m., at the DuPage Foundation, 3000 Woodcreek Drive, Suite 310, Downers Grove, IL. The workshop is free but requires registration. ( http://dupagefoundation.org/news-events/arts-dupage-special-event.html )
For more information, call 630.598.5299 or visit www.artsdupage.org.
About Arts DuPage
Arts DuPage is a county-wide arts council created to empower artists and arts organizations, engage the community, and raise the visibility of the arts in DuPage County. Operating under the umbrella of the DuPage Foundation, we serve as an arts champion, dedicated to sparking the art lover that's deep inside everyone. Through our work, we draw attention to the County's vibrant cultural environment and invite our residents to explore the riches within our midst. No need to travel far to find your art adventure…its right here!
About the DuPage Foundation
The DuPage Foundation is DuPage County's philanthropic leader. Established in 1986 to raise the quality of life throughout DuPage County, the Foundation serves our community by helping area residents and organizations realize their unique charitable goals, providing impactful support to our community's not-for-profits, and fostering key partnerships to address critical issues affecting DuPage County.
As a 501(c)(3) public charity, the Foundation receives contributions and bequests from individuals, corporations, organizations and foundations looking to make a difference for our community and the causes about which they are most passionate. Since its inception, the Foundation has grown to nearly $90 million in assets and awarded nearly $35 million in grants to not-for-profit agencies serving the residents of DuPage County and beyond.
For more information about the Foundation, visit www.dupagefoundation.org. To arrange future media opportunities, please contact Michael R. Sitrick, JD, vice president for advancement, at 630.598.5285, or mike@dupagefoundation.org